In the 60s Fashion for Women saw significant change. While some growing patterns were affected by social and political movements, others were determined by what people were doing at home or socializing with friends. So how did life in the 1960s treat women? What styles were in vogue and why? Let's explore this subject in more detail.
30 Fashion for Women
1. Casual women's outfits in the 60s
1960s casual women's clothing The most popular casual attire was turtlenecks with thick sweaters or button-down shirts. Young women wore short coats with vinyl accents that looked like shiny plastic in suede-like fabrics. However, most women chose blazer-style jackets that would be stylish when worn with dresses but still cozy on those lazy weekends spent lounging around the house in jeans.
2. Women's pants in the 60s 
The traditional Jax pants, with their highly high waistline, side zipper, and long, slender legs, were among the most well-liked products. For more formal settings, they could be worn with the blouse tucked in or left hanging. Knit stretch pants and stirrup pants were also in style for a while. Until the advent of ankle boots, it didn't matter whether the stirrup was visible; after that, this look was out. Zero of 29 seconds 0% volume
3. Women's business fashion in the 60s 
Preppy became a new fashion craze in America in the 1960s. Kennedy's presidency, with the First Couple serving as famous instances. They impacted how people would dress during such a significant time. It was a decade full of subtle and overt developments for women's office attire. While wearing trousers to work was still unusual for women, they were widespread outside the workplace.
4. 60s women's hippie fashion 
Colors of the psychedelic style were popular throughout the hippie era. Paisley patterns, neon flower daisies, and motifs inspired by tropical beaches were all trendy. Additionally, earth tones were in style. Throughout this time, moss green was frequently seen, and those who wanted to add a little more punch to their appearance without going overboard with vibrant hues or patterns may opt for burnt orange and mustard yellow.
The hippie subculture, which developed from the beat movement, dominated the late 1960s. The movement was renowned for its celebration of freedom, nature, and peace and its defiant attitude toward oppressive cultures. Hippie males and females allowed their hair to grow out long and wild. They wore peasant blouses, bell-bottom jeans, fringe, flower prints, and other vibrant clothing.
5. Beatnik Fashion
The 1950s into the early to mid-1960s saw the continuation of the beat generation and beatnik style. Young people interested in the arts, literature, poetry, and music—particularly jazz—wore the look. They wore berets, striped tops, black turtlenecks and pants, and other items as part of their unofficial uniform.
6. 1960s fashion icons 
One of the most fashionable periods in history, the 1960s were characterized by legendary figures like Audrey Hepburn, Twiggy, and Patti Smith. No skirt was too short during that time, and any lady could feel like a goddess (even if the feeling didn't last) with beehive hair that was high enough. Designers may get unending inspiration from the 1960s, which will always be fresh.
7. 1960s Jewellery
In the 1960s, jewelry fashion underwent a significant shift. Glamour was king at the start of the decade, with dazzling gold designs and feminine pearls. But as the decade progressed and mod fashion became popular, jewelry started focusing more on striking plastic creations. These distinctive accessories, influenced by pop art, had strong patterns, geometric shapes, and vivid colors. Enormous earrings, large rings, and bangles were among the essential accessories. But, of course, these fashions weren't for everyone, so hippies favored more superficial trends like handcrafted beaded jewelry and necklaces with peace symbols.
8. Colored tights 
Colorful tights were another hugely popular trend that would be a blast to wear with short dresses or miniskirts because of the sassy and young feelings of the 1960s. But, again, an unanticipated accent gave the outfit a striking feature. During that time, orange, purple, yellow, and red were the most prevalent colors.
9. 60s party fashion 
While the 1960s saw many other designs come and go, they are best known for hippie-inspired attire. When you mention clothes from that decade, the natural looks of the time typically come to mind. Hippies did indeed party the hardest, but let's notice the more feminine trapezoid looks. It is timeless.
10. 60s Western fashion 
The 1960s saw a huge interest in fashion. To reflect society's shifting ideas and ideals during that decade, designers broke several traditions, creating a greater variety of clothing than ever before. As the decade went on, trends from a few urban centers' small pockets started to significantly impact mass-market producers and haute couture designers, influencing the styles we still recognize and adore today.
11. 60s makeup looks 
The goal of the 1960s cosmetics trend was to draw attention to the eyes with a flipped upper lash line, dramatic eyeshadow colors, and a ton of powder. In addition, the lips' delicate flushing or coral hues on fair complexion looked terrific. This fashion became a more girlish appearance as the 1960s went on, epitomized by British models like Twiggy and Jean Shrimpton.
12. 60s Style Mod Fashion
The mod subculture first appeared in London in the late 1950s and quickly expanded worldwide in the 1960s. The mod "London look," a defining aesthetic for the time, left an imprint still felt in contemporary fashion. The youthful generation of the time, who favored contemporary designs, vibrant colors, and increased hemlines, loved the look since it was imaginative and daring.
13. turtleneck from the 1960s
In the 1950s and 1960s, turtlenecks depicted casual, rebellious, and calmness. It had a unisex, comfortable design that prioritized functionality over frills. This item became a de facto uniform for various groups, including activists, beatniks, nonconformists, and fashionable women. It was associated with the intellectual elite (and its want tobes).
14. Swimwear from the 1960s 
Swimwear was still largely conservative in the early 1960s. However, fashion trends swiftly shifted when bikinis and low-cut suit bottoms debuted around 1965. By the middle of the 1960s, nylon and lycra fabrics were more often used for swimsuit construction, and the fit mirrored this.
15. Jackie Kennedy's 1960s style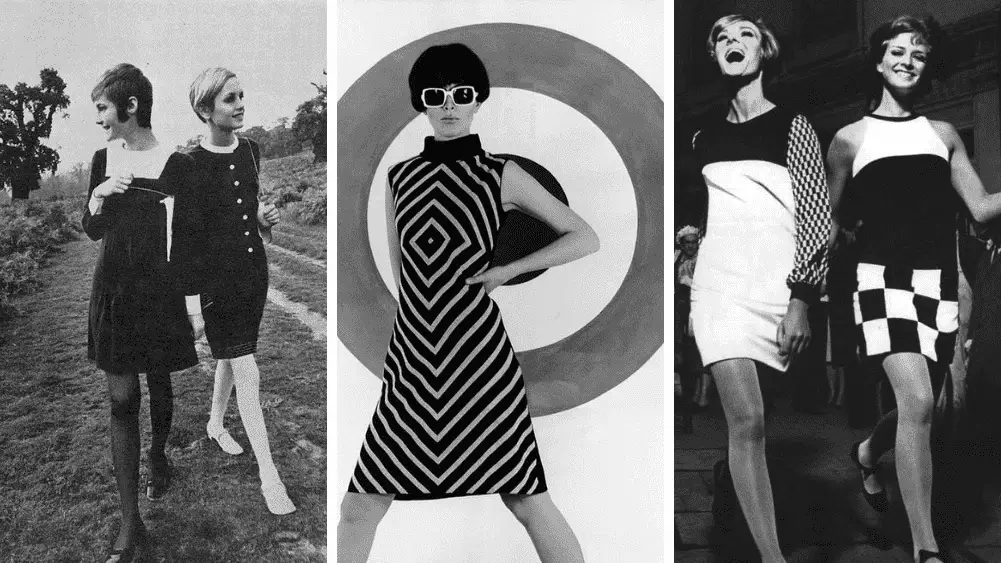 Jackie Kennedy set the standard for classic American elegance with her subtle but never-dull sense of style. Her minimalist, modern, ladylike, and accessorized with a few pieces of clothing was simple to copy. As a result, she was the source of many iconic 1960s and 1970s fashions, including strapless dresses, fitted coats, and pillbox hats.
16. Leopard Prints
Women's dresses in cheetah and leopard prints were a popular smart-casual clothing trend in the middle of the 1960s.
The 1960s saw a rise in head-to-toe leopard costumes, made famous by fashion giants like Brigitte Bardot and Elizabeth Taylor.
This 1960s female design fad, which included fur hats, miniskirts, knee-length coats, flat shoes, and gloves, was so well-liked that American singer-songwriter Bob Dylan created the song "Leopard-Skin Pill-Box Hat" as a tribute to it.
17. Go-Go Boots
Go-go boots were a staple of 1960s fashion. These shoes were first introduced in the middle of the decade and were typically white, low-heeled, and finished mid-calf. However, the word has expanded to cover various related designs, such as knee-high variations, other colors, and kitten-heeled types. Pick your favorite and wear it with a miniskirt for a stylish vintage look.
18. Bold Prints
Bold and dramatic prints were a crucial component of sixties fashion and were seen on many different types of clothing. These bright and proud prints, which included psychedelic patterns, vivid florals, tie-dye, strong stripes, and vibrant checks, were perfect for drawing attention. Choose a striking multicolor or black-and-white pattern dress, top, or matching set to rock the style today.
19. Shift Dresses
Shift dresses were a staple of 1960s mod fashion and were a mod favorite. These shapeless dresses, cut short and had an A-line silhouette, were the ideal replacement for the constricting fashions of prior years. Shift dresses are still in style today because of their stylish and cozy design. Choose a vibrant color or a block-color pattern for a lively 1960s look.
20. 60s Outfits Miniskirts
In the 1960s, the miniskirt made its debut and forever altered women's fashion. The skirt's daringly short style stunned conservatives by allowing women to defy convention and expose their legs. The tiny shirt is still a very fashionable garment for women nowadays. For a 1960s-inspired look, wear one with knee-high boots in the winter and sandals in the summer.
21. Bandana Head Scarves
A significant portion of 1960s black fashion that contributed to the hippie aesthetic featured bandana head scarves in polka dot, geometric, and monochromatic variations.
The look was popularized by a 1960s Christian Dior commercial that used long silk scarves with vivid designs knotted around the hair.
With loosely tied headpieces for all occasions and frequently accessorized with oversized sunglasses, sophisticated, contemporary women reproduced the trend.
22. The Space Age Vinyls
Mary Quant, a British fashion designer, was the first to utilize PVC fabric in her collections for women in the 1960s.
Following the general public's interest in the trend, many more high-end designers and creatives joined it, including Andre Courreges, Pierre Cardin, and Barbara Hulanicki.
Brightly colored 1960s vinyl trench coats with architectural designs and geometric patterns ranging from square to circular dominated the era.
Celebrities, including Joanna Lumley, Britt Ekland, and Brigitte Bardot, were sporting little skirts, shoulder purses, and dazzling white boots.
23. Androgynous Clothing
The 1960s women's fashion revolution that altered gender conventions saw the emergence of the first power-dressing trends.
From Mick Jagger donning the "man's dress" created by British designer Mr. Fish to 60s fashion superstars Barbra Streisand, Diana Ross, Cher, and Tina Turner, pop and rock musicians helped create the gender-bending fashion styles.
In the second wave of feminism, Yves Saint Laurent's avant-garde tuxedo design, Le Smoking, highlighted the necessity for women to take on a more "aggressive" role.
The iconic "Le Smoking" suit featured a traditional wool (or satin) dinner jacket, pants, a white shirt, a bow tie, and a satin cummerbund. It was fundamentally an androgynous fashion look.
24. Sequin Dresses
Glamour was one element that the 1960s women's fashion trends had in spades, as evidenced by evening attire with crystal beads and skirts with sequin embroidery.
The Supremes, who made glittering dresses fashionable, are to blame for the dominance of glitter, gold, and silver lame in women's evening attire during that time.
The 1960s saw a shift away from the traditional black dress appearance of the previous decade and toward vibrant apparel.
Even the nighttime clothing was saturated with color, fiery red, dark purple, bright pink, and green being the most noticeable shades.
24. Color Blocking
The 1960s fashion styles are also attributed to popularizing color blocking, which is now popular among men and women who want to express themselves freely.
With a sack dress modeled after a Piet Mondrian painting, Yves Saint Laurent introduced the trend, which eventually gave rise to the British Mod Style craze.
Some of the most well-liked 1960s fashion designs included two to three brilliant, vivid hues, simple shapes, boxy silhouettes, and geometric lines with a contemporary, trendy flair.
25. See Through Sheers
Nudity was welcomed by movements other than the hippie movement of the 1960s.
In the 1960s, everything was sheer-topped, with see-through sheers combined with bright accessories and sequin gowns.
This 1960s-inspired dress, primarily worn at night, had nude-colored bodices and nothing in connection with the preceding decade's restrained, ladylike elegance.
Above all, Yves Saint Laurent's transparent chiffon dress and ostrich feather belt highlighted the chest, giving rise to the "nude" style and sparking a fresh perspective on women's fashion in the 1960s.
26. The Cut-Out Dress
A famous women's fashion trend in the 1960s was cut-out dresses with just enough skin showing through to catch the eye.
Inconspicuous cutouts in the rear were a morning thing.
Evening attire, in contrast, featured many circle cutouts at the waist or hem and two, three, or more huge cutouts at the top of the dress.
Rudi Gernreich, an Austrian fashion designer, and the model Peggy Moffitt displayed a variety of cut-out versions, frequently in funky designs that were fashionable and practical for everyday wear.
Modernity was typified by Pierre Cardin's futuristic cut-out dress, which demonstrated a brand-new method of wearing cut-outs without exposing too much skin.
27. Handkerchief Scarves
In addition to bandanas, which dominated 1960s black fashion, handkerchief scarves in vivid hues and strong prints were also in style.
Handkerchief scarves were used by women as bibs or draped over their shoulders to go with a variety of outfits.
Handkerchiefs, sometimes silk neckties, were worn to match outfits, including leopard-print skirts, matching coats, and enormous glasses.
28. Chain Belts
Another style that swept the fashion world in the 1960s was chain belts.
Chain belts were among the most popular accessories of the 1960s fashion era. They were made of gold or silver-colored metal rings fastened with flat connectors.
Chain belts, which Sophia Loren frequently wore, defined the waist and gave shape to head-to-toe knit outfits, giving tiny dresses a young appearance and added edge.
29. Leather All Over
In London, the mod subculture expanded throughout the early to mid-1960s, and antagonism between mods and their fashions increased.
Rock'n'roll, motorcycles, and leather jackets were favorites of the classics, while "modernist mods" were more interested in "effeminate" fashion.
Conflicts would develop between the two groups, which Pete Townshend would eventually immortalize in the Quadrophenia concept album by the Who from 1973.
Women's design trends in the 1960s began to include leather throughout the entire costume, influenced by the iconic white patent leather boots of Andre Courrege and the traditional mod look.
Rebellious and alternative leather outfits grew associated with the female empowerment movement as clothing became more relaxed across genders and age groups.
The stress of London was ruled by full-body biker leather jumpsuits, leather vests worn with pants, miniskirts worn with matching leather jackets, and thigh-high boots with low heels and mid-calf height.
30. Colorful Menswear
The iconic Teddy boy look dominated men's fashion in the 1960s, bringing paisley suits, blouses, and trousers with flowery patterns as music infiltrated the fashion world of the era.
Collared shirts, sandals, and fringed jackets were popular 1960s hippie fashion trends that reflected Indian inspirations and an easygoing, carefree vibe.
Conclusion
A perfect fusion of glamor, ease, and freedom was achieved by matching bouffant hairstyles with 1960s dresses, vibrant apparel, jewelry, and accessories.
On the one hand, the hippie movement of the 1960s spread a message of tolerance and openness through their breezy and vibrant attire.
On the other hand, the feminine allure and ladylike styles of earlier decades are still reinforced by the sequined dresses and skirt suits for women from the 1960s.
In opposition to the established quo, new men's 60s fashion trends like flashy pants and printed shirts began to appear during the same period.
Most importantly, the fashion of the 1960s defied stylistic conventions and, under the leadership of the younger, more free-spirited generation, brought about a much-needed transformation to the world.
FAQs About 60s Fashion for Women
What were the 1960s fads in terms of clothing?
Women in the 1960s wore short boxy jackets, suits with large buttons, and shift dresses, sometimes known as geometric dresses.
Evening fashions from the 1960s included full-skirted evening gowns with low necklines, fitted waists, and tailored skirts paired with stiletto heels.
How did women dress in the 60s? 
The 1960s saw a variety of styles, from goofy wild hair to psychedelic tie-dye outfits. Every design trend featured vibrant, swirling hues, including long skirts with Peter Pan collars and short dresses that showed off the legs. PVC footwear and clothing were also famous. Among teenagers, fashions like culottes, go-go boots, and denim jeans have caught on like wildfire. There is no disputing that this era permanently altered numerous traditions!
In the 1960s, what did elderly ladies wear?
For older women, the 1960s were a conservative decade. They weren't interested in the experiments like younger generations were. Instead, most girls would complement their signature haircut with vintage plaid skirts, blouses, and cardigans.
Which 1960s fashion fads were in vogue?
The 1960s were a revolutionary decade. Mod and shift dresses worn with vibrant tights or denim trousers, eye-catching patterns like tie-dye, a variety of prints, and miniskirts inspired by hippie culture were just a few of the significant changes in women's fashion that would influence decades to come. To top it all off, go-go boots added an extra touch of youthful rebellion.