Even if you are nostalgic for the "old times" or weren't old enough to flaunt lovely 90s hairstyles, you can still benefit from the lovely 90s hairstyles for women.
The 1990s were known for their long, voluminous hairstyles, crimped hair, and pixie cuts. These strategies are all still in use today.
These hairstyles can be fantastic options whether you want to bring your look back to the 1990s or seek a fresh approach to style or cut your hair. Even though 1990 is about 30 years in the past, their haircuts are still fashionable and appealing in 2022.
30 Best Hairstyles in 90's
Do you know that in the 1990s, flowers and roots were in vogue? Today, many others use the same strategy. Only we use different kinds of flowers and term real roots and ombre.
In any case, wearing some below-90s hairstyles is a good way to seem a little dated. So, whatever your objective, one of them can enable you to take advantage of a fresh appearance without feeling overly dated.
We have seen the '90s aesthetic return to the catwalk and the street. It's time for '90s hair to take center stage right now! 1990s hairstyles are incredibly adaptable, ranging from charming to stylish, simple to sexy. The best part is that they complement your natural hair texture and are simple to make. Read on how to wear the most fashionable looks from this renowned fashion era.
1. Natural Hair with Butterfly Clips
The 1990s saw a significant resurgence of hair accessories like barrettes, slides, and scrunchies. Butterfly clips, however, were among the most recognizable of these ornaments and remained fashionable well into the 2000s.
Butterfly clips are adorable, charming, and flirtatious, instantly adding a youthful and attractive aspect to any hairdo. So it's no wonder they're back in trend. Your textured curls provide the perfect surface for the clips to cling on and stay in place, making wearing them in your natural hair an attractive option.
2. Two Side Buns with Scrunchies
One of the significant festival hairstyles in the 1990s was side buns, also referred to as "space buns." They are now considered mainstream. With your beloved scrunchies—another incredibly adorable '90s accessory—you can give your side buns a softer and more casual feel as opposed to loud colors, glitter, and braids.
Whether you choose animal pattern scrunchies or modern velvet ones, your side buns will be the most noticeable. It's the ideal outfit for a weekend brunch, a day out in the sun, or a laid-back date.
3. 90s Bob with Fringe and Butterfly Clips
Pairing the butterfly clip trend with a '90s bob is another incredible way to do it. You can wear it with side "tendril" bangs or the traditional blunt, wispy '90s fringe, depending on the shape of your face.
The outcome is the perfect vintage hairdo, which looks excellent with casual clothing or a silky slip dress.
4. Straight Hair With Butterfly Clips
Whether you have straight or curly hair, there are countless ways to style butterfly clips. While you could just put them in the front of your hair to keep it simple, why not mix things up? Style them half-up, half-down for a truly 1990s aesthetic.
Sections of your hair can be twisted back at the crown and clipped to add height and volume. Then, wherever the butterfly clips will be placed, spritz some texturizing or sea salt spray, tease the hair, and go for the stick-straight '90s style. Doing this will ensure your hair has sufficient "grip" to hold the clips.
4. 90s-Inspired Bantu Knots
 Twist Bantu knots entail coiling a portion of hair around itself to form a bun. Bantu knots have a lengthy history, despite their heyday in the 1990s when they were fashionable as a fun look for a rave or festival.
These Afro-textured hairstyles, rooted in the Zulu culture of southern Africa, are protective. Bantu knots are a great summer style and, as a striking updo, are perfect for showcasing bold eye makeup, jewelry, and sunglasses.
5. Banded Pigtails
Because they are usually associated with children, pigtails can be challenging to wear. However, if you draw inspiration from the 1990s, you can pull them off chicly! You might try banded pigtails, sometimes referred to as bubble pigtails.
Tie your hair in pigtails and pull it out to produce the adorable "bubble" look using transparent hair elastics. For a lively party style, leave the bubbles smooth. To give a more undone, contemporary look, tousle the hair.
6. Hairstyle with Messy Braids and Colored Hair Pins
With such wide various varieties and styling possibilities becoming popular, the 1990s was a terrific decade for braids. One of these was the messy braid, made famous by celebrities like Brandy.
The trademark playful-yet-cool '90s mood is seen in messy braids. Start by creating conventional box braids, then twist and secure them into a messy half-up, half-down style to achieve the desired effect. To add more interest and a bit of individuality, use colorful hairpins.
7. Side Pigtails with Colored Hair Clips
Consider Baby Spice as your stylist when wearing colorful hair clips and side pigtails! The style is ideal for fine, straight hair, appeals to many facial shapes, and has an aggressive edge that stands out.
The styling is the secret to ensuring that your hair does not appear childish or costume-like but relatively calm. Contrast your pigtails' girly, lighthearted tone with edgy streetwear and straightforward cosmetics like a cat's-eye wing or pastel eyeshadow.
However, don't be bashful since you need a lot of attitudes to get this look off as well.
8. Box Braids with Butterfly Clips
Were you looking for a stunning '90s hairdo for a particular event? Put some butterfly clips on some box braids. Box braids that are extra-long, smooth, and sleek are a striking look on their own, but adding butterfly accents gives them more '90s flair and a lovely feminine touch.
Select butterflies with vibrant wings that will go well with your attire. You can go bold with giant butterflies or go delicate with little butterflies. Finally, choose smooth, lightweight clips that won't snag or pull on the hair but will softly hold your braids.
9. Half Up Half Down with Hair Beads
In the 1990s, hair beads and half-up, half-down hairstyles were equally popular. Instead of blow-drying your hair smooth and straight, please give it some wavy texture to look like a more contemporary makeover.
Your final appearance will be whimsical and feminine, making it ideal for a summer picnic, festival, or romantic date. High-quality beads made of silver or gold will ensure that the hairstyle will last. You may even wear it to a wedding as a guest or bridesmaid.
10. Space Buns
In addition to being adorable, space buns are the key to lazy-girl elegance since they are simple to recreate with wet or greasy hair. Once the buns are in, this is the perfect moment to decorate them with butterfly and snap clips.
With our IPSY Glam Bag essentials, achieve '90s hair. To get started, take our beauty quiz right away. A current Napster? Earn points by referring friends, which you can then redeem for merchandise.
11. Zig-Zag Part
If you're near a comb (or anything pointed), we strongly advise you to trade your straight-back 2022 component for a rad zig-zag-patterned '90s one. Christina Aguilera, Lizzie McGuire, or Scary Spice are all over this. Choose your fighter and look a try.
12. The Claw Clip
A center part combined with a low bun and face-framing waves is the best method to draw your hair back stylishly. Add a '90s touch by fastening it with a claw clip. Everything is so Rachel Green.
13. Head Scarves
In the 1990s, everyone from Aaliyah to Nicole Richie wore bandanas and silk scarves, so we are beyond thrilled that the trend is returning.
A scarf knotted in a knot at the nape of the neck and looped around the forehead is both fashionable and practical for covering second (or third-) day hair.
14. Bubble Ponytail
This beautiful, whimsical, '90s-inspired design is likely to catch the eyes and is ideal for boosting volume (and covering extensions). Make a ponytail (high or low) and use an elastic to hold it in place.
Create the illusion of a bubble from the base to the ends by wrapping thin elastic in two-inch increments. For optimal volume, make sure to fluff up the parts in between.
15. Zulu Knots or Mini Buns
This look made a big splash in the fashion world. We all know that Gwen Stefani is a fashion icon who made Zulu knots famous in the '90s.
She wore these tiny buns with her usual blonde hair and red lipstick on the red carpet, which made everyone wonder how to get this look. However, the second bun trend is a different take on this style.
16. Scarf Headband Look
One of the most well-known hairstyles from the 1990s is wearing a scarf as a headband. Both men and women are known for these styles, which involve putting a scarf on their hair. Many famous people, like Kendal Jenner and Gigi Hadid, still wear this hairstyle.
17. Classic Bun
The big bun in the back of your head makes you look classy and stands out from the crowd. The pouf is made in the front of the head, and hair accessories or pins are put on the side of the bun to hold it in place.
18. Loose French Braid
The braid starts on the front side of the head and goes to the middle. At the end of the braid, a low ponytail is made. If you have long, straight hair, you should try this haircut for your college or school look.
19. Side Ponytail
A side ponytail keeps your hair out of your face and makes you look stylish. Girls in high school and college love these hairstyles from the 1990s. It is a pretty easy haircut. You need to pull your hair to one side and tie it there.
20. Tiny Braids
Pop stars like Brandy Norwood and Janet Jackson changed the way girls wear braids today. Each braid was so small that it looked like a thick strand of hair. It was worn long for a seductive look.
Choosing a pretty and complicated hairstyle like braiding is a classic way to wear your hair, which means that one of our favorite trends will keep going strong. We're lucky that there are many ways to braid our hair.
21. Layered Ringlets
Mariah Carey was a big part of the culture of the '90s. It is not too stretch to say that she inspired most of our hairstyles. It makes sense that Mariah's hairstyle led to layered ringlets.
The look not only caught on, but it has also stuck around for a long time. Women have been showing off their natural, thick curls, and they can thank a pop princess for it.
22. Butterfly Clamps
In the 1980s and early 1990s, butterfly clips were one of the most popular accessories. For parties and prom hair in particular! Even if you don't believe it, girls wear them now, but in a fresher, less structured way.
We're happy to say that our butterfly clips have held up over the years, and we can't wait to clean them off and use them again!
23. Bantu Knots
If you went to a rave in the 1990s, you probably saw a few girls with Bantu buns. Even though it's similar to space buns, Bantu buns are all about having fun and showing your wild side!
24. Pins and Beads
In the 1990s, it was all about accessories, and dark hair was the best way to make them stand out. Right now, colorful bobby pins and beads are trendy, and putting them in a line like you used to do with butterfly clips is a great way to bring back an old trend.
25. Tiny Braids for Front Pieces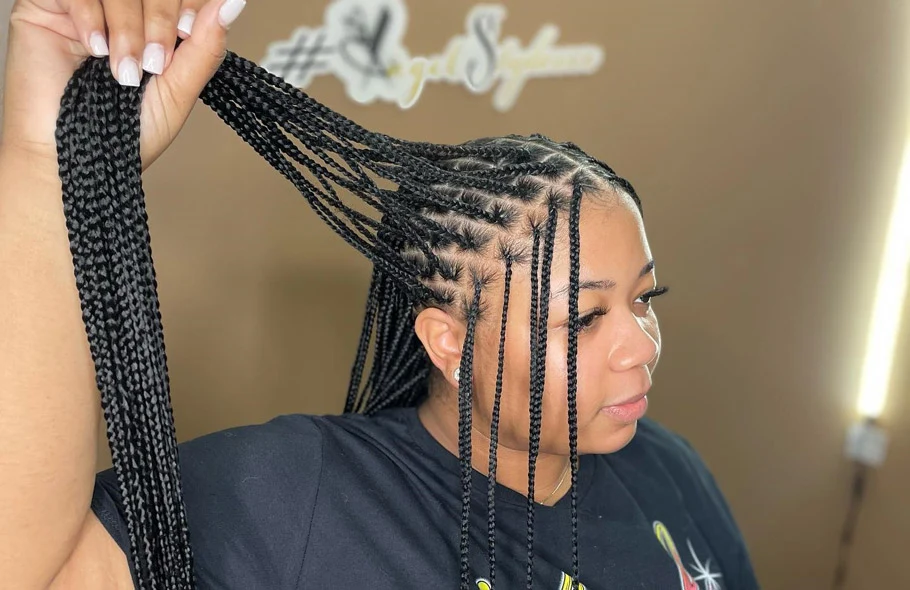 Small braids on the front of the hair were common in the 1990s. For a cute 90s look, pair it with a bandana-style, flicked-out bob, or high ponytail with a scrunchie.
26. The Face-Framing Messy Bun
In the 1990s, the only thing better than a messy bun? A messy bun with long, loose strands coming out of it. "The trick is not to be too exact," says Downing. "If pieces fall out, use that to your advantage; it will add to the messy approach."
He suggests using Queen For A Day Thickening Spray ($20) as a prep step to give hair a smooth, even texture. "Then, put the "messy bun" so that it fits the bone structure," says Downing.
27. Twists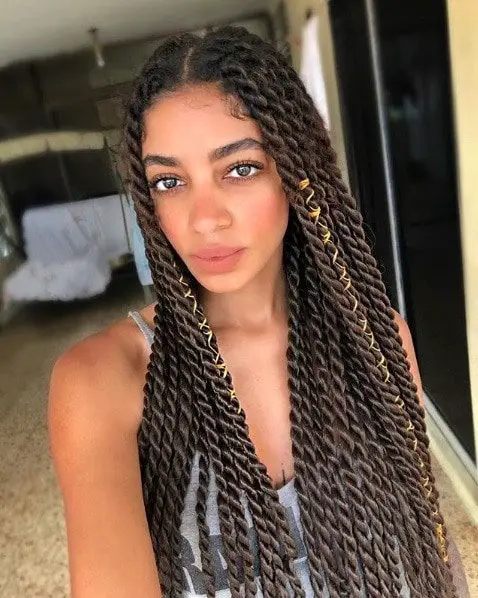 Twists are always in style because they protect your hair. They have blonde highlights like a bob to make them look like the '90s. Try a lightweight conditioner like Design Essentials Almond & Avocado Moisturizing & Detangling Leave-In Conditioner ($14) to add moisture to your hair and make it easier to style.
28. The Outward Flip
The only thing better than watching their movies, reading their books, and wearing their clothes is? So Keke Palmer does a flip like Mary-Kate and Ashley's signature move from the 1990s.
"Keep it undone and live on," says Du, to update a hairstyle that looks like it came from the past. "Adding modern touches can also help make things look less old."
29. The Crimp
In the '90s, everyone had to have crimped hair, and if recent red carpet and runway looks are any indication, this might be coming back. Du says, "Crimping can look silly, but if done right, it can look chic and editorial.
Think about where you want to crimp your hair. For example, keeping the roots smooth and only crimping the ends can look super cool, or a smooth, crimped ponytail can be so on-trend." Lowery says, "For a modern look, work in bigger crimps instead of tiny ones." "This will make it look more like beach waves."
30. Double Step Twirls
If you like braided hairstyles, try this one out as soon as possible. This double-step twirl was a popular hairstyle in the 1990s. It may look hard at first, but with a bit of practice, you can master it.
FAQs About 90s hairstyles
What are 90s hairstyles in vogue?
Some iconic 90s hairstyles include chunky highlights, mohawks, high, short ponytails, straight hair with bangs, and razor-sharp cuts.
What is the name of the 90s hairstyle?
Bow Cut When worn in the 1990s, how? Despite being one of the worst hairstyle trends, the 90s bowl cut was widely adopted during that decade. Its name comes from the fact that mothers used to give it to their kids by putting a bowl over their heads and cutting around it.
What hairstyles did girls sport in the 1990s?
'90s hairstyles were about originality, experimentation, and fun, with Baby Spice pigtails and zig-zag sections joining claw clips and colorful scrunchies.
Which fashion trend dominated the 1990s?
Grunge was one of the hottest fashion trends in the early 1990s. In 1992, when grunge bands like Nirvana, Pearl Jam, and Soundgarden gained prominence, it became widely accepted as fashion. Darker-colored plaid flannel shirts, stonewashed or torn jeans, Doc Martens, combat boots, Birkenstocks, and high-top shoes were all part of this ensemble.
Are bangs in vogue now?
Without some fantastic feathery bangs—a haircut nearly synonymous with the 1990s—a 1990s hair roundup would never be complete.