The A-Line bob haircut is a trendy hairstyle, and stylists predict it won't go out of style soon. There are some variations, and many ladies now favor stacked bobs.
The good news is that, like other bob haircuts, the A-Line version looks fantastic on a wide range of face types and hair textures. Additionally, you can add whatever you like to this cut's layers, bangs, textures, volume, and color finishes.
When your hair is cut in an A-line style, it is shorter in the back and progressively gets longer in the front. Usually, the cut's angle begins at the back of the neck and descends directly between the chin and the shoulders. 
The majority of face shapes and hair types can use it. It will often position the face to highlight the best facial characteristics. It's a classic hairstyle with many variants, like adding layers or stacking.
I've included images of some of the most admirable a-line bob haircuts I've seen this year in the gallery below. So prepare to be inspired by one of these stylish ensembles!
Numerous Possibilities for A-Line Bob Hairstyles
A stacked haircut provides you with more width and volume towards the back. An inverted bob will reduce heavy hair while giving you mobility. A-line bob haircuts with back layers and long front hair may also add dimension to hair. Depending on the desired result and hair thickness, different layers are employed.
Also remarkable are A-line bob style options. You may pick sleek, perfect, or disheveled looks. A stacked bob looks excellent with tight bouncy spirals or enormous loose waves. Long A-line and short stacked bobs seem graceful and welcoming.
The A-line bob hairstyle can be softly or harshly stacked, wavy or straight, blunt or edgy, smooth or textured, short or long. Graphics can drive you to create unique changes. Hopefully.
What Makes Bobs So Popular?
Over the past century, bob hairstyles have grown in popularity. They have historically been linked to older women's haircuts and more somber appearances.
However, there has been a significant shift in that viewpoint. Young girls are becoming more adventurous with their shorter hairstyles. However, you can only argue that it appears enjoyable, whether selecting from a variety of bob haircuts or coloring in a particular way.
What Benefits Can Shorter Hair Offer?
Traditionally hair has long been connected to female attractiveness and femininity in general. However, throughout the last century, shorter hairstyles have become more common. With shorter hair, there are countless options for hairstyles and possibilities.
Shorter hair requires less maintenance; you don't need to spend much time styling it in the mornings.
On the other hand, it could be better to visit the salon more frequently if you want to keep it brief.
Long hair is more expensive to maintain than short hair since coloring is quicker and less expensive, and you use less shampoo and conditioner over time.
The fact that it's healthy is the best part. Since short haircuts usually look lovely on their own or with minor touch-ups, you typically don't need to use heat as frequently as you would on lengthy hairstyles.
Last but not least, cutting your hair short may be a freeing and life-changing event if you've all had long hair. As opposed to lengthy hair, it better highlights your facial characteristics. In addition, short hair is pleasant and will always be fashionable.
The Difference Between an A-Line and a Regular Bob
A-line bobs are fashionable short haircuts. It's the most popular form of the bob hairstyle, and it's considered bold. It has a face-framing design that can modify your appearance.
"A" in its name indicates back-to-front graduation. A-line bobs have shorter backs than fronts. Graduation doesn't have to be stark and obvious—it depends on hair length.
Depending on hair color and style, the A-line bob may be modest or dramatic.
Ideas for A-Line Bob Cuts in Hairstyles
A-line hairstyles are fashionable, unique, and enjoyable. An a-line is your most excellent option in 2022 if you're looking for a new appearance without taking too many chances.
1. Stacked Bob with Side Bang
In a haircut, the phrase "stacking" is relatively literal; layers are layered on top of one another to add volume. This typically takes place in the style's rear to produce the most fullness, which resolves into angled parts in the front. Subtle highlights break up the density of the cut.
2. High-Low Bob Haircut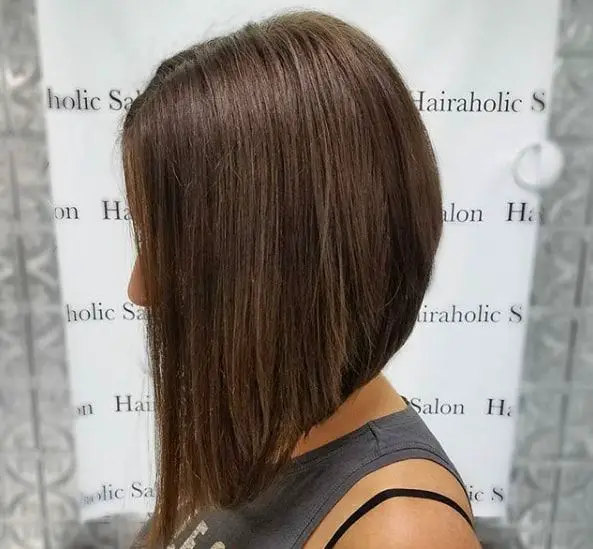 The back of an a-line haircut is shorter than the front, which progressively gets longer. The fact that there is often no stacking in style distinguishes it from an angled bob. This allows you to play around with textures like waves.
3. Wispy Brown Bob with Glimpses of Blonde
The wispy layers of the cut are its genuine piece-y perfection, but the combination of warm and cool tones ups the invisibility factor. Waves best display the skilled dye job.
Wrap one-inch portions of hair around a straightening iron to create lovely curls. To assist the shape in keeping in place, run a dime-sized quantity of light-hold pomade through the ends.
4. Glossy Blonde Bob with Jagged Ends
A-line bobs are built to last. Longer intervals between color sessions are possible with the gradual lightening effect of balayage coloring, which involves painting color onto the hair. Additionally, you can go a little longer between haircuts because of the jagged edges.
5. Choppy Angled Bob for Fine Hair
A medium-length bob is ideal if you want a covertly low-maintenance haircut. Face-framing highlights and lightened ends provide the appearance of more depth, while choppy layers and an angled cut to prevent the hair from looking flat. The task is essentially done for you. Your privacy is secure with us.
6. Angled and Layered Brunette Bob
As timeless as they come is the stacked A-line bob. The variation here has to layer all around and is longer in the front and stacked in the rear. If you have thick, heavy hair, your new best friend is the shorter top layer. Long, light bangs enhance the charm.
7. Wavy Brunette Bob with Surface Layers
The short A-line bob combines the comfort of a shorter cut with the adaptability of a longer one for the best of both worlds. Surface layers only enhance the modern, disconnected look's attraction. Who says you have to choose?
8. Angled Brunette Bob with Purple Highlights
An extraordinary combination of color and cut. Unbelievably adaptable, these vibrant purple highlights are entertaining.
They either appear to merge back into brunette hair when observed in natural light, or they make a bold statement when photographed in artificial light.
9. Asymmetrical Wavy Lob
Asymmetry is acceptable when it comes to A-lines. It's pretty alluring. If the bob's first act is lengthening, unconnected layering heightens the tension further. The cut's front layers are intended to fall farther to the right.
10. Textured Blonde Bob for Straight Hair
The actual characteristics of the haircut—"shorter in the back, longer in the front"—come into their own at below-the-chin lengths.
The long A-line bob's front-to-back contrast is a vital and eye-catching component of the style. After all, what's wrong with a little extra attention?
11. Wispy Razored A-Line Cut
We adore how this cut gains height and body from the shorter layers. Spray a dry shampoo or texture spray after blow-drying or straightening your hair to achieve the desired height.
12. A-Line Bob with Shaggy Ends
Because you can have the length you desire in the front, and shorter hair in the back, an A-line bob haircut with highlights is a terrific method to transition to the shorter side.
Here is an excellent example of a hairy A-line style that has been enhanced with subtle highlights for a more elegant, dimensional look.
13. Wavy A-Line Bob
Wrap your hair around a curling iron for about 5 seconds, then finger comb it to create beachy waves. To achieve the perfect wave, you can also use a waved mousse. Save
14. A-Line Lob with Shaggy Ends
Hair that is shoulder length and has stylish waves is trendy. Additionally, you can easily pull it back into an updo or cut it short if it grows to a length you don't like.
15. Blunt Bob
An A-line bob's most vital feature is that it may be simultaneously free of layers and angled. If your hair is not naturally thick, a blunt cut will make it fuller.
Therefore, when choosing a haircut, those with fine or thin hair should think about this kind of bob.
16. No-Fuss Bob
The fuss-free bob is a no-brainer for the ladies out there with curly hair. Refrain from making your waves straightener. Instead, highlight your hair's natural texture and allow the waves to frame your face. You only require that.
17. 90s Long Bob
The slight A-line bob is lowered a few centimeters to increase its adaptability. In addition, you have more room to work with because of the added length, so that you can create more styles with it than with a shorter bob.
18. Sharp Bob
You elevate your razor-sharp ends as we notice your slanted bob. This bob should not be underestimated. It is a riskier and more fashionable look.
Perfect for those with a daring sense of style because of its polished appearance from the sharp ends.
19. Curly Bob
Don't worry, and curly females can participate as well. This balayage bob strikes all the right (angled) notes.
20. Caramel A-Line Bob Hairstyle
Light skin undertones will look fantastic with this hairdo. The A-line is distinct and distinct. Highlights that are caramel blond blend in beautifully with the color base.
The color tones are much more similar, giving the hairdo a more cohesive and uniform appearance. This hairdo, especially your jawline, will structure your face. It is incredibly straightforward to use and maintain. Use only color-safe shampoo, please.
21. Light Brown A-Line Bob With Longer Front Ends Hairstyle
Shorter hairstyles with longer front ends will perfectly frame your face and highlight your collarbone. This hairdo looks warmer and more fascinating with darker roots.
It has a very polished and professional appearance. This haircut will give the entire outfit a fantastic and exquisite mood when worn with a dress that exposes the collarbone.
22. Curly Warm A-Line Bob Hairstyle
This hairdo is ideal for fall and winter because of its warm tones. Curls will give the entire look additional volume and warmth. It looks intriguing and lively because of the various highlights in different tones.
The A-line is significantly softer and more subdued on its own. This haircut is for you if you want a more understated A-line bob appearance.
23. Green A-Line Bob Hairstyle
This hue will dramatically change the look of a bob hairstyle, making it look edgy and unique. This green color has a grey undertone, making it appear much colder and more aesthetically pleasing.
Your jawline will be shaped and appear different if the front portions of your hair end just below the chin. You can create the appearance of a modern fairy with some darker green eyeshadow.
24. Curly Black A-Line Bob Hairstyle
An effortless and easy-to-maintain hairdo. This hairstyle will give you more structure if your face is heart-shaped or round. Whether you want the haircut to look bouncier will determine whether you should wear it curly or straight.
Straighter hair will be more appropriate if you wish to appear more professional. Red or dark red lipstick will round off the entire outfit.
25. Trendy Chocolate A-Line Bob Hairstyle
Right now, straight A-line bobs are trendy. This hairdo has very sharp edges that give it a pricklier appearance and remind you of the hair of a female villain from a movie.
The chocolate color emits a rich, warm mood that gives a powerful vibe. This hairdo is fantastic for a business appearance.
26. Wispy Razored A-Line Cut
Shorter layers give this cut height and body. Spray dry shampoo or texture spray after blow-drying or straightening to add height.
27. Burnt Caramel With Red Cherry A-Line Bob Hairstyle
Adding these deep red highlights to a dark brown base is a terrific place to start if you want to spice up your hair. It's a brief appearance that will completely change how you appear. The entire haircut is a very mild bob with curls that give it bounce because the A-line isn't so strong and sharp.
28. Fifty Shades of Blue A-Line Bob Hairstyle
These various blue hues are ideal for pastel-colored hairstyles. Although the A-line is less pronounced and severe, the front ends of the skull are still longer than the back. The principal outcome will be stunning facial sculpting.
Layers are less noticeable when the hair is straight, but if you curl them, they will give the hair more volume. To prevent the blue hues from turning green, use a hydrating conditioner and perform touch-ups every six weeks.
29. Magnificent Platinum A-Line Bob Hairstyle
This A-line bob is a terrific haircut if you prefer shorter hair. The front of the hair moves the most because it is short. Any facial shape can benefit from this hairdo.
Due to bleaching, the color requires a little more upkeep, but if you take good care of it, it will last. It has an excellent, sleek, and refined appearance. Use a moisturizing conditioner if possible.
30. Purple Dreams A-Line Bob Hairstyle
This hairdo looks terrific on a face with a heart shape. It will be easier to achieve purple if your hair has already been bleached than if you haven't. It will eventually turn blonde and then a lighter shade of purple. It will subtly but significantly alter the way you look.
Coloring the roots instead of the ends will result in a less noticeable alteration. The perfect New Year's Eve look would be soft curls and shimmering eyeshadow. Use a shampoo that is color-safe only!
31. Short Caramel-Streaked A-Line Bob Hairstyle
Any hairdo will have more personality with a few caramel highlight streaks. Straight hair is the most popular method to style it, and side bangs would look great with this A-line haircut.
Curling it, however, is always a good idea because it will highlight the caramel highlights and give it a beautiful aspect. This hairdo will well frame your face.
32. Subtle And Versatile A-Line Bob Hairstyle
The hair is long enough in the front for styling purposes and short enough in the rear to show off the neck and shoulders. You can wear it without spending an hour styling your hair because it is straightforward to maintain.
If properly positioned, the front will emphasize and compliment your facial characteristics. Red adds a lovely and enjoyable splash of color.
33. A-Line Bob Hairstyle With Dark Red Highlights And Bangs
A straightforward A-line bob style with burgundy highlights. Burgundy will be used to highlight the layers, but because it is a darker red, it blends in beautifully with the underlying hue of brown.
A straightforward, sensuous hairdo that works for every situation. Use a color-safe shampoo to avoid having your red highlights turn orange.
34. Blunt A-Line Bob Hairstyle
This so-called blunt A-line bob is ideal if you want that A-line to stand out less. Very simple to maintain a haircut. By bringing in a few cooler tones to the brown, blonde highlights will counteract the warmth.
Curls will accentuate the blunt appearance, as the cut won't be as noticeable. A reasonably subtle change that works well as a step up to shorter hair.
35. Soft, Curly Red A-Line Bob Hairstyle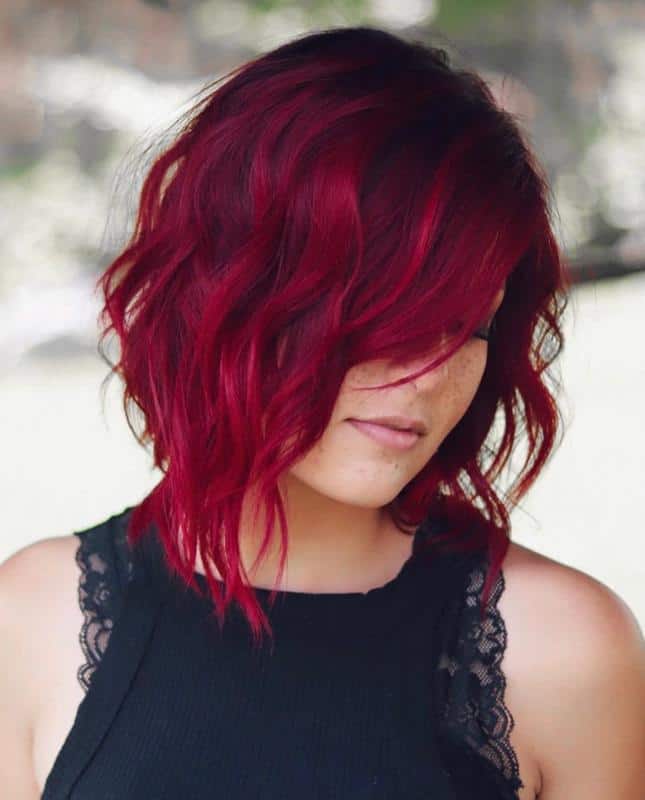 This hairdo has a very delicate and refined appearance. The red appears much warmer since it has deeper hues.
The A-line cut is somewhat concealed by the curls, giving the whole haircut a more understated appearance. It will give your face structure and enlarge the size of your eyes.
36. Fire & Ice A-Line Bob Hairstyle
This hairdo is incredibly dramatic and distinctive. The colors make it look outstanding even though the cut is not that sharp. This hairstyle will be challenging to maintain, although it's a terrific concept for photo shoots and some occasions.
Periodic touch-ups will be required to keep these colors vibrant because the blue will eventually turn green. However, you can make a statement with this haircut when paired with the appropriate attire!
37. Blue Streamed A-Line Bob Hairstyle
This is a fantastic alternative for you if you currently have shorter hair and want to add some intrigue. Although not too short, the hair on the back is shorter than the front, giving the appearance of more edginess.
In addition, darker blue highlights blend into the black base more effectively than lighter blue would.
38. Platinum Highlights on Dark Blond A-Line Hairstyle
This straight A-line bob haircut is a variation of the classic bob. Platinum highlights counter the dark blond and brown hair's warm tones. The combo gives the entire style a boost.
In addition, the A-line cut will give your face more structure and draw attention to your eyes.
39. Pointy A-Line Bob Hairstyle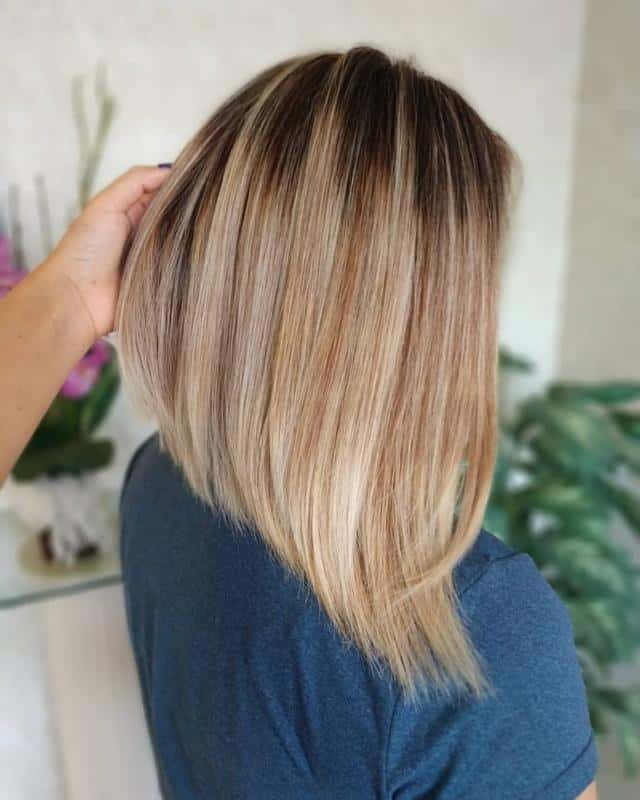 The fronts of this A-line bob are trimmed at a larger angle, giving them a spiky appearance. This haircut will curve your face effectively if you have an oval or heart-shaped face.
Blonde hair with warm undertones helps the entire hairdo appear cozier and cozier.
40. Curly A-Line Bob Hairstyle With Multiple-Colored Highlights
This is the ideal style for you if you have dark brown hair and want to shorten it. The A-line cut will highlight your jawline and other facial characteristics.
The haircut will resemble melting caramel if a few highlights in blond, red, and light brown are added. The haircut becomes softer and cozier with curls.
FAQs About A-Line Bob Haircuts
What distinguishes an A-line bob from an inverted bob?
In actuality, they both refer to the same item. Their names are different. For example, an a-line or inverted bob has a minimal angle over it that is shorter towards the back and progressively moves forward.
What does a line bob look like?
An example of a line bob haircut
When your hair is cut in an A-line style, it is shorter in the back and progressively gets longer in the front. Usually, the cut's angle begins at the back of the neck and descends directly between the chin and the shoulders. The majority of face shapes and hair types can use it.
Do layers exist in an A-line bob?
You can make the angle between the front and back of the garment longer in the front than in the back. The A-line bob hairstyle does not have stacked layers in the back like a graded or inverted bob. The best feature is how incredibly adaptable this bob is.
What does a mom bob look like?
Anything shorter than your shoulder counts. The fairy, the Kate Gosselin, the long bob (lob), and several other hairstyles are available. However, the prevailing assumption is that mom haircuts are short, low-maintenance styles that women embrace when they grow tired of wearing their hair in a sloppy bun all the time.
A stacked line bob is what?
A graded bob, also known as a stacked bob, has layered layers towards the rear. It is extremely short but layered, getting longer around the sides until you reach the appropriate length in the front.