What is the Best Drugstore Primer For Oily Skin? Your skin is unique.
It is simply a matter of finding the perfect formula that works for you.
Whether you want 24-hour coverage or have a specific skin condition (dry patches, oily skin, enlarged pores), a good makeup primer will work its magic to minimize the appearance of pores and matte your skin.
Wear it as a foundation base or go for the no-makeup look that's all the hot trend right now.
Ladies with older skin, you may finally say goodbye to blemishes and fine wrinkles by investing in an age-defying primer.
To all the busy moms (and boss babes) out there, we've got you and your skin requirements covered the next time you're in a hurry.
Credit: @Superdrug Broadfield
Continue reading to learn about the best drugstore primers that can make you glamorous.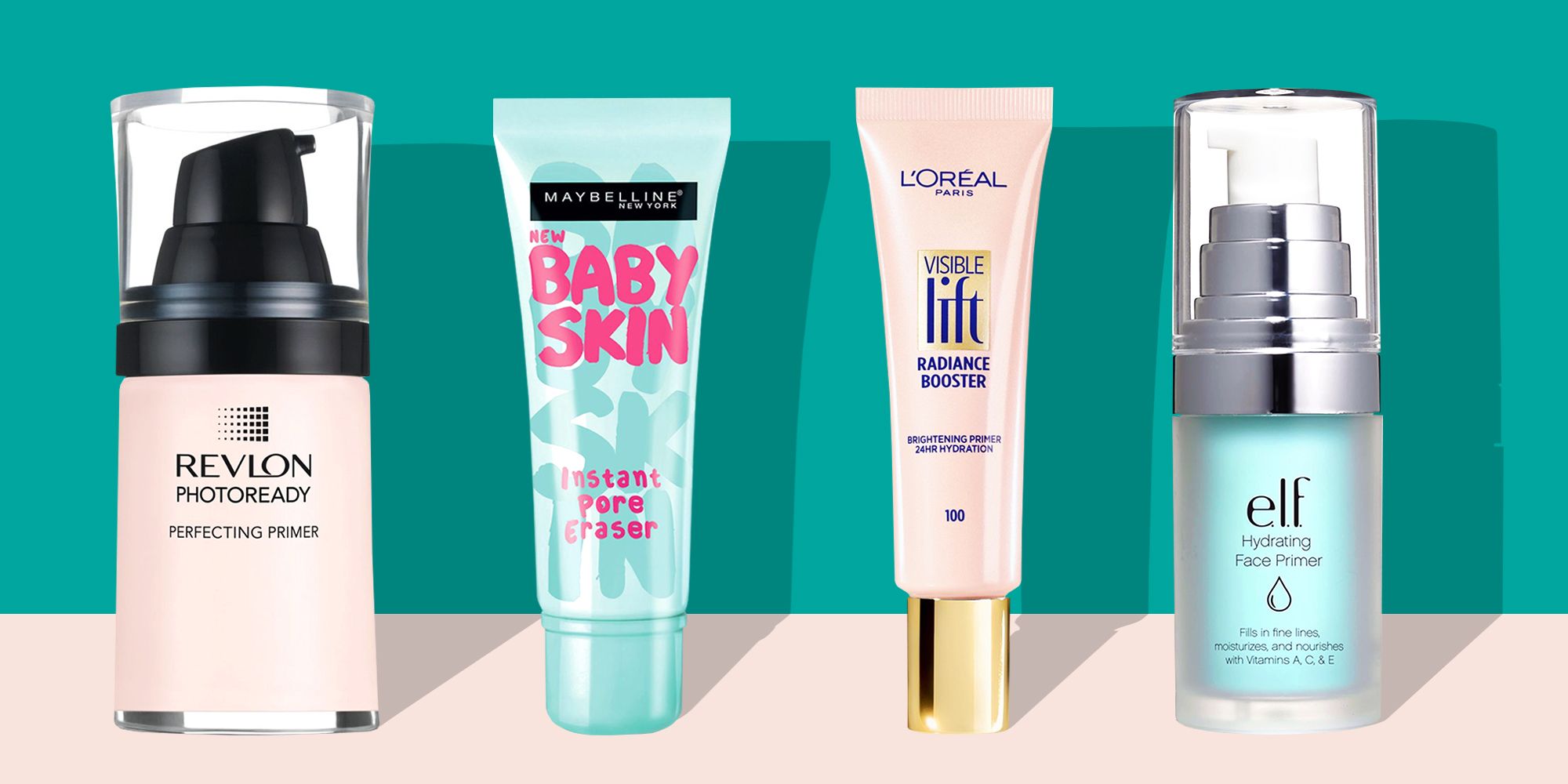 What is A Primer?
A face primer is a cream that you apply before you put on makeup to mask your pores and fine lines and to extend the time your makeup lasts on your face.
Primer is a good face item to apply because it soothes and brightens your skin tone.
It is ideal for adding radiance to your makeup and giving your skin a glowing look.
It offers your preferred makeup look a matte texture and extends its wear time.
It is suitable for all skin types and textures, including sensitive, oily, and dry skin.
Best Drugstore Primer For Oily Skin
1. Rimmel London Stay Matte Primer
Don't be fooled by the low price-Stay Rimmel's Matte Primer is designed to keep shine at bay for up to eight hours.
According to New York-based makeup artist Desireé Delia, its lightweight texture helps to minimize the appearance of pores and comes in a clear formula to match any skin tone.
2. e.l.f. Matte Putty Primer
e.l.f's Matte Putty Primer, infused with oil-absorbing skin care components like kaolin clay and white charcoal, is precisely what you need to keep your face looking shine-free this summer.
It has a thick, velvety texture that is perfect for locking in your makeup, and it glides on softly over the skin, giving it a poreless appearance.
3. Maybelline New York Baby Skin Instant Pore Eraser
For a smooth, poreless finish, you can't go wrong with Maybelline's Baby Skin face primer.
Dimethicone, its main ingredient, is known for filling in pores and minimizing the appearance of redness while helping absorb excess oils.
4. L'Oréal Paris Studio Secrets Professional Magic Perfecting Base
Use this mattifying drugstore primer from L'Oréal Paris to control shine and give your makeup more staying power.
The lightweight formula glides on skin smoothly, erasing fine lines and wrinkles and eliminating the appearance of pores.
The silky-smooth finish is simply a bonus.
5. NYX Professional Makeup Shine Killer Primer
NYX's shine killer primer, as the name suggests, is the ultimate tool in your makeup inventory.
This oil-absorbing, anti-shine primer with charcoal helps to establish a barrier between your skin and makeup.
It's also light beige in hue and dries to a translucent matte look.
To help control shine, pat it on oily areas of the face such as the forehead, nose, and chin.
6. Neutrogena Shine Control Matte Primer + Serum
If you enjoy using serums, you should consider Neutrogena's serum-to-primer selection.
It can be worn with or without makeup, and it contains rice protein, which acts as a sponge to absorb excess oil.
It applies clean and dries to a matte look, blurring the appearance of pores.
7. CoverGirl Outlast All-Day Primer
This top-rated CoverGirl primer is affordable at just under $10, yet it seems far more costly than it is.
Its cruelty-free composition contains silica, an ingredient recognized for aiding in the filling of pores and smoothing of uneven skin complexion.
It can also be used on clear skin, making it appropriate for all skin tones.
8. Revlon PhotoReady Perfecting Primer
Revlon's perfecting primer contains high-definition filter technology that mimics picture filters, giving it an airbrushed appearance.
Its pink color helps to brighten your skin and soften the appearance of flaws.
The oil-free product also feels light on the skin.
9. NYX Angel Veil Skin Perfecting Primer
This drugstore primer is essentially a copy of a more costly luxury brand primer, but it provides the same quality for less than half the price.
10. N°7 Airbrush Away Primer
The hyaluronic acid moist-locking spheres in this primer, according to MDA Brush executive artist Dominique Lerma, can help smooth your skin by decreasing the appearance of pores and fine wrinkles.
If you have sensitive skin, No7's Airbrush Away Primer is hypoallergenic as well.
11. wet n wild Prime Focus Impossible Primer
This multi-tasking primer hydrates and mattes the skin while also containing skin-loving ingredients including gooseberry and jeju blossom extract.
Its silicone-free formula glides on silky smooth and aids in the blurring of pores for a flawless soft-focus look.
12. Neutrogena Healthy Skin Prep + Correct Primer for Redness
If you wake up with red, blotchy skin, this drugstore primer *must* be in your routine.
Do you recall the color wheel from elementary school?
Because this foundation is green (the opposite of red on the color wheel), it neutralizes rose tones.
13. Nyx Professional Makeup Can't Stop Won't Stop Matte Primer
If you have oily skin, you are familiar with the strain of an hourly blotting session.
However, the matte effect of this primer may allow you to ditch the blotting sheets for good, as a blend of clay and minerals absorbs any extra oil you create throughout the day.
14. Elizabeth Mott Thank Me Later Primer
You may thank us later (no, truly) for Elizabeth Mott's miracle-working paraben-free and cruelty-free face primer, which practically masquerades as an IRL Instagram filter.
The long-lasting waterproof composition reduces the appearance of pores and fine wrinkles while not drying out your skin.
15. Covergirl + Olay Simply Ageless Makeup Primer
Replenish your winter skin and reverse the effects of aging with Covergirl's hydrating primer, which will leave you with a young glow.
The pump dispenser simplifies application. Pro tip: For a bright complexion, pair with Covergirl's Simply Ageless Foundation (discover your actual tone).
How to choose the best drugstore face primer for oily skin
Choose oil-free:
"An oil-free primer can be a wonderful worker for oily skin because it doesn't add more oil to the oils your skin already generates naturally," Murphy adds.
Furthermore, oil-free primers are more likely to contain chemicals that will matte your skin (think: salicylic acid and witch hazel).
Don't skimp on moisturizers:
Hydrating elements, including hyaluronic acid, are found in primers that will keep your skin moisturized.
Dr. Shainhouse claims that by avoiding dry skin, you will not feel the need to generate excess oil to balance the scales.
Seek out a blurring primer:
According to Murphy, most people with oily skin have larger pores than those with dry or mixed skin.
So a blurring primer can significantly improve your makeup game.
Blurring primers (usually containing silica or dimethicone) help to fill up pores, smooth skin, and absorb oils all at the same time.
Go photo-friendly:
Consider photo flash-friendly primers your best friend if you have an oily T-zone.
"These contain talc and zinc, which work to reduce the flash of bright lights against the skin," Murphy explains.
However, if you have a darker skin tone, she recommends using the least amount of product possible, as these primers might leave an ashy or white cast on the complexion.
Without further ado, here are the finest drugstore face primers for oily skin, according to experts, that should be in your cosmetic bag.
How to apply face primer on oily skin for a flawless finish
Prep the area first:
Murphy suggests using a little amount of loose setting powder to the skin before applying primer.
"This increases the oil-absorbing effectiveness of your primer vs using a primer alone," she says.
"It also helps your foundation last longer."
Use a brush instead of your fingertips:
We carry oils on our fingertips, so using a brush to apply your primer ensures a thorough and even application-as does using a completely separate brush from the one you use to apply foundation, says Lerma.
Don't forget your eyelids:
"For a flawless application, be sure to prepare not only the face, but also the eyelids," Delia advises.
This is just as crucial because it decreases the amount of oil that's going to sneak through and ruin all of your finely blended shadow work.
Our Thoughts
Switching up the primer in your makeup routine is something very important if you want a matt look with no pores and fine lines.
Face primers are available in a wide range of skin types and textures.
When you don't know what's best for you, assign yourself a task.
We've provided you one of the finest drugstore primers for oily skin that will not only offer you smooth skin and a matte look, but will also last a long time.
They will assist you in dealing with your pores and fine wrinkles.
So hurry up and choose what best suits you!
Frequently Asked Questions
Do you moisturize before primer?
The truth is, you should always apply moisturizer before reaching for primer.
Moisturizer (or sunscreen) should always be the last step in your skin care routine.
Primer should always be the first step in your makeup routine.
Do you put primer all over face?
Unlike products that lock your makeup in, like setting powder or setting sprays, primers are almost always applied after your last skin-care step and before your makeup.
Is there a primer that fills in wrinkles?
The Bellaterra Cosmetics Makeup Primer is all you need for daily use.
As it fills in your wrinkles, fine lines, and such imperfection temporarily.
That means the surface of your skin surely transforms into an even, smooth canvas.
How do I choose a primer for my skin tone?
You can ask for a primer that has an illuminating formula with a dewy finish.
Try to avoid one which has a matte effect as they'll make you look dull.
You can also opt for the pore minimizing primer formula as it gives an amazing base for foundation and concealer.
Is coconut oil a good primer?
Did you know coconut oil works as the perfect primer for a foundation?
Simply dab some on your face, let it soak in and then apply your tinted moisturizer or foundation.
You will notice how much smoother and longer your makeup stays on.