Undercut hairstyles for women are unafraid to go head to head with men's cuts. This timeless style was traditionally associated with men, but recent years have shown that women can pull off a similar appearance by shaving the sides of their heads while leaving some length on top.
This daring look can be worn with hair of some length, and the length you choose to wear depends on what you are most comfortable with. Other than ensuring you are prepared for the commitment that comes with it, there are no hard and fast regulations about wearing an undercut. 
Is it that you're growing out a pixie cut on top but want to go for something more daring underneath? Or you are looking for something edgy that will play up a hot and trendy hair color (anyone for purple or pink). If you choose, you can rock an undercut while still maintaining your feminine appeal. Have a look at these daring looks to find the shaved style that works best for you, and don't be afraid to try something new!
Will Undercut Suit You?
Before getting this cut, consider whether it will look good on you. In general, people with oval faces can wear almost anything. For the rest, pay attention to how and where you put the style's top length.
People with long foreheads might want to wear a bang to hide the length of their foreheads. If your jawline is square, you should have a longer length below it to make it look more even. Your stylist can help you figure out what length and parts will work best for your hair and you.
45 Most Stylish Undercut Hairstyles Ideas
Undercuts are popular. You'll save morning styling time. With an undercut, you need to style the top. This look may be worn and parted many ways to flatter different facial features. Many women start with this cut before going wilder. Try an undercut if you want to try a short women's style.
1. Disconnected Undercut
Disconnected undercuts are apparent. It's usually coupled with a firm part that pushes the hair over. Many women adore this appearance to highlight body tattoos or shaved or pierced eyebrows. Color enhances a disjointed style.
2. Short Hairstyle With Shaved Temple
Some girls want to try a shaved head without fully committing, which is great. This adorable and fun variant lets you have a popular female trend cut without losing length. It adds dimension to a classic bob. Even a side undercut is refined.
3. Undercut Long Hairstyle
The undercut can work for girls with short, medium, or long layered hair. When you want to show off your sides, collect lengthy hair in a ponytail, space bans, or a short side braid. Third, you can try new hairstyles every day.
Since hair multiplies, you may always attempt new patterns and colors. You'll always have a new haircut and never get bored.
4. Messy Short Hairstyle Ideas
Bob is for women who want longer, low-maintenance hair. This hairstyle is also stylish. It's challenging to master and less flexible than other haircuts. This style is more of a bowl. Regardless, it's fantastic. Copying this look is a good idea.
5. Disconnected Layered Undercut
Layers add movement and dynamics. A disjointed undercut adds drama to an appearance. They'll make a great team. Tapers can soften harsh contrasts. Skin fades are great for going large. Your hairstyle doesn't matter. This undercut works on any surface.
6. Side Undercut Hairstyles
The basic undercut has shaved sides and nape, yet it's never limiting. An undercut is a blank canvas where you can experiment with your hairstyle. When you want intense hair changes that aren't too drastic, get a side undercut. A shaved side can give individuality to your pixie or bob.
7. Lotus Style Undercut With Bun
Want to highlight your undercut without shaving? Then it would be best if you had braids. Braid a little portion of hair along the hairline to see your undercut differently. Combine shaved sides with braids. Maintenance is needed. This pair is great. Braids can soften a bold style.
8. Side Swept Undercut
Side-swept undercuts are fashionable. If you wear a pixie or bob, this haircut is for you. Experiment, no matter your hair length or color, and you'll discover something that works. Side-sweep works with shaved or tapered sides. This style looks great wavy or straight.
9. Creative And Outstanding Undercut Hairstyle
Undercuts work with short hair. For this hairstyle, shave your sides and fade or taper them. Some ornamented undercuts look bomb. Now, it's creativity. Play with colors and cutting techniques. The undercut is truly limitless. Here's proof. They're just the start.
10. Undercut Designs Ideas
With an undercut, your hair is art. Shaved undercuts are the latest style in women's undercuts. You can construct your artistic side, nape, or all-over shave doodle. These popular shaved designs will inspire your next session.
11. Long Hairstyles With Undercut Designs
Designs vary. Masters shave creatures, geometric forms, and abstracts. Imagination is key.
Brightening your undercut can also express personality. Warm season: pink, green, yellow; winter: purple, blue, black.
Animal designs are trendy, so unleash your inner wildcat. You can also accessorize. The sparkly powder will do. Or, shade your design. That's a novel way to style your hair.
12. Undercut Fade
Undercard fade is a gentle transition and length gradation. Undercard fade is often employed in men's haircuts, but it's now one of the hottest androgynous women's hairstyles. Low, mid, and high fades exist. Differences in softness and length. Mid fades to create a balanced aesthetic. High fade favors contrasts. The low fade is a lovely accent for the nape.
13. Daring And Unbelievable Hair Undercuts
After seeing what you want, your hairstylist might propose a similar style that fits your routine and hair texture. Have an hour in the morning, or do you want a more straightforward style? That will determine your appearance. Consider whether you can sustain a concept before pursuing it. Shaved designs are often high-maintenance despite appearances.
14. Wild Orange Edgy Symphony
Follow your hairdresser's instructions. A competent stylist is trustworthy. If you don't like a hairdo, accept it.
15. Spike-Line Hair Tattoo
Don't boast. Trust your stylist to avoid disappointment. When shaving the head, go slowly rather than all at once. You'll rock this fashionable hairstyle. You can always trim more hair afterward. If you go too short, you'll commit yourself.
16. Back Shaved Lines Undercut
Today, simple, polished, and striking lines turn heads. A side stripe or customized line adds character to an undercut. Side hair overgrows so that you can attempt many different styles.
Now that you've seen the current women's hair trends, you realize undercuts aren't just for males. This haircut is versatile and can help you shine. It may appear too wild for the office, but it has various lifestyle variations. It takes courage. You won't regret trying it.
17. Wavy Undercut Hairstyle
The undercut gives this classic wavy look edge. Thicker-haired women should consider an undercut instead of cutting their hair short.
18. Pixie Undercut with Shaved Design
This unique pixie undercut is perfect for vivid and unboring hairstyles. This aggressive side undercut is only for some people who desire an easy-to-hide style.
19. Long Black Undercut Braided Design
This long significant undercut and tight braids reduce the model's hair thickness. This combo can be camouflaged by unbraiding the hair. The design around the ears and temples may show, but it's unobtrusive.
20. Afro Hair Undercut
Unique undercut style. The nape undercut balances skin and height. Temporary colors would be fun.
21. Striped Undercut Pixie Cut
This short and bold style has a great pattern. This undercut goes down to the skin, and the deep, dark, and acid-purple undercut sections are remarkable. Make sure you're ready for a shortcut, as it can take time to regrow hair.
22. Side Undercut with Color Pop
This undercut is something that you're going to adore if you're a fan of vibrant jewel tones and fiery colors. The color must be carefully applied to get the extreme length on top and the mix from green to yellow, but this is a relatively easy task. To achieve dazzling looks, the top hair should be bleached before it is colored.
23. Pink Asymmetrical Undercut
If you are searching for a different approach to your pixie cut, this is a style you should try out. However, it is an eccentric cut.
24. The Boy Short Undercut
This is a variation on the traditional undercut that is popular amongst men. Still, it also looks fantastic when worn by women because it is straightforward to achieve and can be done at any barbershop.
25. Women's Undercut Hair Tattoo
If you are thinking about getting a tattoo on your neck, try experimenting with a new undercut hairstyle that mimics the look of a tattoo first.
26. Crop Circle
This design, inspired by a phenomenon, looks fantastic when mixed with three-tone hair.
27. Crown Braid Undercut Hairstyle
You will feel like a queen whenever you wear this outfit because it brings out your best features. When it is unbraided, there is sufficient length to be styled in various ways. Also, consider accessorizing this look with ribbons or something else.
28. Top Knot Undercut With Geometric Design
It is standard practice in undercuts to show respect for one's religious affiliation. Your faith, no matter what it is, can serve as a source of creativity for your new hairstyle.
29. Fall Color Undercut Pixie
This undercut style is one of the more vibrant examples on the list, and as a result, it will garner a lot of attention. How the color contrasts with the varying lengths of the hair has piqued our interest.
30. Undercut Short Hair
Undercuts are adventurous and thrilling. This statement-making ensemble is perfect for fashionistas. The cut flatters facial features.
31. Nape Undercut
For a soft undercut, try a nape undercut. The top of the neck can be shaved for a basic, attractive look.
32. Bob with Undercut
Undercut your elegant bob for a trendy look. Standard, temple shave, or nape undercut work. Choose straight for a sleek look or wavy for a relaxed style.
33.  Colored Undercut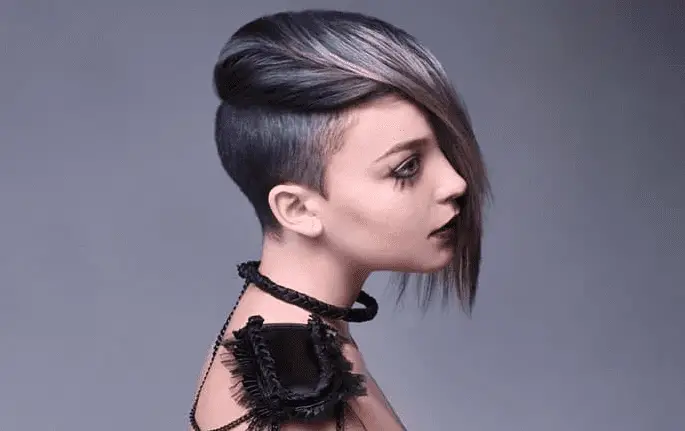 Coloring your undercut makes it a bolder style. Decide if you want to dye the top, the bottom, or both, then choose a color.
34. Undercut Ponytail
Undercuts look excellent with ponytails and other hairstyles. Throw your long hair on top into a high pony to show off your shave.
35. Wavy Undercut
A wavy undercut is an excellent option whether your hair is naturally curly or you utilize heat to create waves. The contrast between the top waves and the short sides provides a striking look.
36. Bowl Undercut
Bowl undercuts are retro-cool. This unusual and excellent cut is perfect for looking fashion-forward and fresh, especially in lilac.
37. Slick Back Undercut
Style-conscious? You may want a slick-back undercut. The look works with various hair lengths and is excellent for short, straight hair.
38. Temple Shave Undercut
Undercut hairstyles vary. A temple shave undercut is a great option. The cut, which shaves a little portion of hair around the temple, lets you try the trend without drastically changing your image.
39. Topknot Undercut
How about a nape undercut? Why not wear a topknot?
40. Side-Swept Undercut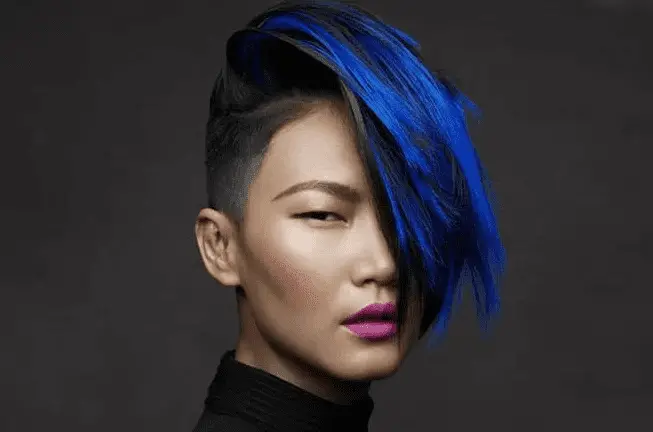 A side-swept hairstyle shows off a side undercut. The asymmetrical style is impressive.
41. Spiked Undercut
Spiked undercuts are ideal for edgy women.
42 Undercut for Curly Hair
An undercut helps tame unruly curls. The cut will keep your curls from overwhelming your face and showcase their natural texture on top.
43. Layered Undercut
The undercut is highly customizable. Try a layered variation of the popular cut with temple and nape shaves.
44. Undercut with Shaved Design
Have your hairstylist shave an eye-catching design into your undercut to modernize it.
45. Cropped Undercut
Cropped hair might seem drab if left one length throughout. An undercut can make short hairstyles more interesting without growing them out.
FAQs About Best Undercut Hairstyles for Women
What does it imply about a woman's sexuality if she has an undercut?
One of the most common ways women have been altering their appearance is by getting undercuts. What do we term something that has been undercut? It is a style of haircut that can be achieved by shaving the sides of the neck and the nape of the neck to a concise length. You can have your cut colored or decorated after it has been completed. There are several reasons undercuts are popular nowadays, but one of them is their versatility.
Who ought to have an undercut?
We advise shaving only one side of your head rather than both sides or all over if you have thin hair and want to try an undercut. If you are non-binary or gender-fluid or experience anything else that falls anywhere on the transgender spectrum, wearing an undercut can help reduce your gender discomfort.
How long does it take for an undercut to take effect?
How is a decent undercut maintained? Every three weeks is recommended as the recommended frequency for touch-up visits. It usually takes around two weeks, provided the hair is long enough and the style chosen could be more attention-grabbing. Naturally, the type and consistency of a person's hair will determine the degree of maintenance required for any given haircut.
What should a woman do to her undercut?
To keep it short, you must trim the undercut every two to three weeks. You can do this at home or go to a salon. Wash and condition your hair regularly to keep it healthy.
Is a wide undercut good?
An undercut can help thin, thick hair. Short haircuts like bobs sit better with a nape undercut. Side undercuts can make your hair lighter.
How long is an undercut?
Growing out an undercut can kill the style. It can take three to 24 months to match your hair. It will be shorter and more comfortable if you have a pixie or crop. If you have long hair, it may take forever; be patient. Flip your portion as it grows, or use color to make the process more enjoyable. Of course, hairpins and styling products are useful.