Best wedding hairstyles typically refer to the hairstyle worn by the bride, bridesmaids, and other wedding party members. Popular wedding hairstyles range from sleek and elegant updos to romantic curls and half-up half-down styles. The style chosen often depends on the wedding theme, dress style, and the bride's taste. Wedding hairstyles can also include accessories such as veils, tiaras, headbands, and hair combs.
Every woman's life culminates in her wedding. Each woman wants to look great and wow guests. If you've chosen the right dress and shoes, it's time to add the finishing touches. A trendy bride's outfit is only complete with a chic haircut. We want to share various wedding hairstyles with our readers.
Every woman can find a great hairstyle. To choose a stunning wedding hairstyle, consider your dress, facial features, and preferences. This article has the best bridal hairstyles ever. Relax and choose now! Easy bridal hairstyles for any hair length are included.
1. Classic Low Chignon
This wedding hairstyle is timeless. Pin your hair back into a beautiful low chignon. You can add braids or hair items or leave them as is.
2. Elegant, Vintage-Style Curls
Try these curls if your wedding has a retro theme or you want glamor. They'll elevate your big day. We love this looks… Timeless—like you.
3. Romantic Updo with Flowers
A slightly undone bun with face-framing elements is more relaxed. Add little white flowers to your bridal updo for a romantic touch.
4. Deep Side Part
We love a side part because it works with every hair type, texture, or length. Depending on how you arrange the rest of your hair, a deep side part can be edgy or romantic.
5. Long, Smooth Curls
Show off long hair with smooth curls. Use a frizz-fighting cream on your waves before photos to keep them shining and sleek.
6. Pinned Curls
Pin the top of your curls for volume. Then, add a glittery headpiece for a bridal look.
7. Glam Long Ponytail
Photographer Mecca Gamble
Glamorous? Ponytail your hair. You may show off your long, luxuriant hair in the back. Plus, no hair worrying!
8. Braided Barrette
This messy look combines done and undone. Add texture by braiding. Messy waves are lovely for a beach or boho wedding, but you can sport them anywhere.
9. Natural Curls
If you have natural curls, make them extra bouncy for your wedding. Work with your hairstylist to get the best products for your best hair day (you'll take lots of shots). Add a headpiece, tiara, or flower crown.
10. Hidden Hair Piece
Add a hairpiece to any exquisite updo. Your guests will notice the shimmer all day.
11. Sleek Topknot With a Back Braid
By braiding the back of your hair into a bun, you may add a playful touch to the classic look. A simple accent will give your already elegant updo a whimsical touch.
12. Effortless Fishtail Braid
Consider a structured yet gorgeous braid if you want your hair out of the way but avoid committing to a complete updo. This fishtail twist is precisely undone, so you won't have to worry about your hair frizzing or falling out during your outdoor summer party. The more disorderly it becomes, the better it will appear.
13. Loose Waves With Flower Crown
On your wedding day, the alternatives for wearing a flower crown are limitless. Whether you choose plain greens or vibrant flowers, maintain the attention of your lovely hairpiece by styling your hair in free waves.
14. Half-Up, Half-Down With Volume
Choose this playful spin on the classic half-up hairdo for an ultra-glam appearance. Request that your stylist teases your hair's back area to create voluminous volume.
15. Sleek Ballerina Bun Topknot
You may believe this legendary hairstyle is only appropriate for ballrooms, but it can be worn anywhere. It is currently one of the most versatile bridal hairstyles. So embrace your inner ballerina with a stunning and daring topknot, and perform a few pirouettes on the dance floor.
16. Regal Updo With a Jewel Crown
Feel like a princess on your wedding day with this stunning updo. First, twist and fasten your hair around the nape of your neck. Then, add your favorite tiara as the finishing touch to pave the way for true majesty.
17. Asymmetrical Twisted Updo
Consider this somewhat asymmetrical twisted updo if you want to avoid wearing something too beautiful on your wedding day. It appears effortlessly stylish.
18. Sleek Center Part
Dare to be daring with this classy yet straightforward attire. For an ultra-modern wedding day hairstyle, part your hair along the middle to create a neat part, then tuck the remaining strands behind your ears.
19. Colorful Ends
Make your wedding hairstyle (and hair color) stand out by selecting soft, uncomplicated waves. Add a flower crown to draw attention to the color of your hair.
20. Updo With a Flower Crown
Play dress up with your bun, ponytail, or twist by adding a colorful flower crown to the full effect. A word of advice: consult your stylist about removing it, so you don't ruin your beautiful updo.
21. Blown Out Curls Pinned to One Side
Get a complete blowout from your stylist to achieve an ultra-glam look. This will include volume, curls, and everything else. The final step is to glam it up by pinning one side down with a glittery barrette. Your presence will brighten the whole day.
22. Twisted Updo
Do you want to show off a pair of earrings that make a statement? Then, consider rocking this stunning updo that will keep your hair in place so that you may enjoy your wedding day (and look lovely while you're mingling with your loved ones) and give some thought to the possibility of wearing it.
23. Unique Crown
Make a statement about who you are by selecting a one-of-a-kind headpiece to wear on your wedding day. This crystal crown is a unique take on the traditional tiara, which is why we adore it.
24. Messy Bun
A messy bun can seem both carefree and stylish at the same time.
25. Woven With Ribbon
Your updo would look great with a velvet or vintage ribbon woven throughout it.
26. Sides Pulled Back
One of those tried-and-true hairstyles that are suitable for any wedding.
27. Elaborate Headdress
Have a unique headpiece custom-made just for you.
28. Deep Side Part With One Side Pulled Back
A sweet look that draws attention to your beautiful features.
29. Braid Crown
The braid crown is a versatile accessory worn with various looks.
30. Big and Bold Glam
Grab your hot rollers and get ready for enormous, touchable volume.
31. French Twist Hair Style
This hairdo is a time-honored tradition at weddings—the ideal finishing touch for every bridal ensemble. You decide to make it less heavy or more smooth. You can either arrange the hair on the face or put it back.
32. High Bun
The high bun is a sign of natural beauty and a touch of neglect. The hairstyle becomes even lighter and airier when you add a few strands that have been let loose around the head. Use a little roller to add volume.
33. Loose Waves
This is the method that will give you the most natural appearance possible. Light, airy waves are currently one of the most popular trends in bridal hairstyles, and they look beautiful on any bride. Curling the bang away from the face is preferable to create a wind illusion with the hair. When curling your hair, it is best to use a curling iron that does not have a clip and to wound your hair around it to form a tiny tourniquet. This will ensure that the wave looks as natural as it possibly can.
34. Half Up, Half Down
One of the most common options for a bride's hair on her wedding day. It is lovely, focusing on the bride's natural beauty, who is being honored. Braids or bundles can be used to eliminate any facial hair that is in the area. It is recommended to comb the crown region just a bit since doing so will provide some more volume and nicely emphasize the form of the head. Choose the weightless twigs made of beads if you want to add accessories to your look.
35. Long Wedding Ponytail
A soft hairdo brings out the natural splendor and luxuriousness of hair. To achieve a harmonious appearance with the hairstyle, it is necessary to add volume to the areas around the bangs and the crown. Combing it from the inside out is best to ensure that the tail maintains its volume and shape during the event. In addition, you can achieve a more sensitive and natural look by including some strands that have been let down.
36. Mermaid Braids
Wedding hairdos are both romantic and uncomplicated. The ideal choice for weddings held in the open air. It is highly recommended to use the additional strands of artificial hair to achieve a fuller appearance with the weaving.
37. Classic Updo
This is a hairdo that looks good on virtually everybody. The use of light lines highlights the gentleness of the wedding style. You have the option of going with either some more strands or a traditional back updo.
38. Timeless Chignons
This delicate and natural bun is "timeless," always in style, and suits most haircuts. Use thick strands, a large curling iron, and natural waves to create the perfect chignon. Instead of aerosol, use liquid polish to seem "fresh."
39. Elegant Low Bun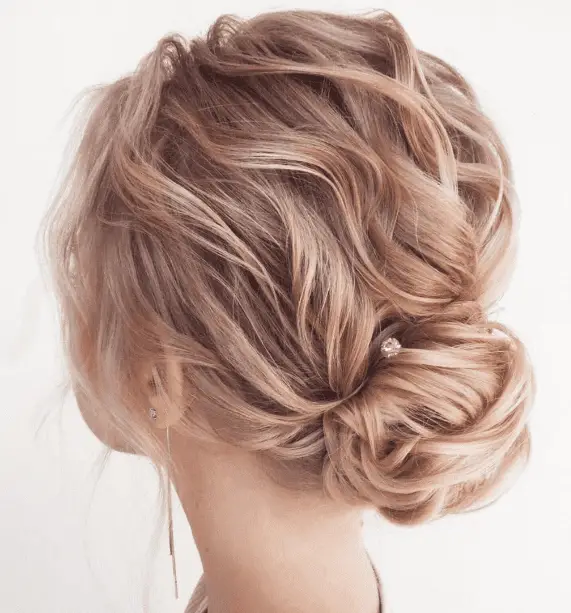 It's a wedding-day hairstyle that will only overpower your innate beauty. Instead, smooth, shiny hair adds shine. This haircut looks unique with huge earrings and a modest dress. It's excellent for a classic blazer or hat.
40. Ponytail For Casual Brides
Iron her hair for a natural look. Pull down the iron to generate natural waves. Comb the tail and use hair powder for volume.
41. Side Pinned Hair
Short wedding hairstyles offer an airy, delicate appeal. A flower-shaped attachment will make it lighter. This hairstyle is perfect for modest dresses without tulle or many features.
42. Stylish Straight Bob
This stylish wedding hairstyle is trendy. This haircut requires a hairdryer and ironing. It gives hairstyle tips. Backcombing adds volume.
43. Easy Side-Swept Hair
This carelessness is stylish. Iron-curled curls can be brushed at the roots for an all-day style. The powder adds volume. Roots and length can be treated.
44. Wedding Headband
This hairstyle will highlight bridal accessories. It makes wedding hairstyles unique. It adds depth and emphasis to dark hairstyles. Always-trendy materials include ribbons, pearls, and rhinestones. Compatibility with the outfit and shoes is vital.
45. Triple Low Buns
This is one of our favorite bridal hairstyles because it's lovely and uncomplicated. You create a beautiful, on-trend hairdo by twisting together three even buns.
For this style, see our twisted buns tutorial. Make sure you have bobby pins to fasten your buns during the ceremony. This basic updo looks excellent with long or short hair.
46. Croissant Bun
Elegant croissants and real flowers decorate updos. A croissant bun is another fantastic DIY option, although we recommend having help with the flowers. This pastry-inspired updo has a tutorial. Set your style before adding flowers.
47. Fishtail Braided Half-Updo
Dreamy fishtail updo. Large braids contrast and enhance tighter curls. Every few inches, this braided updo is stopped. This adds texture and highlights the braid. But, of course, that hair item helps, too.
48. Classic Fishtail Braid
One fishtail braid is more straightforward. Perfect is this side-fishtail braid. We love it with a strapless dress to add intrigue. Side-swept styles are perfect for warm spring outdoor weddings. Plus, you'll look stylish with a braid.
49. Elegant Top Knot Bridal Hairstyles
Another stylish hairstyle? This top knot. This style looks nice on any hair type and face shape, so it's a safe choice.
Don't worry if you don't have big hair. A hairdresser can make a voluminous style or add extensions for this voluminous top knot.
50. Curls With Oversized Flower Crown
Mega-glam brides will love this look. Bigger is better for hair and floral accessories. Two-inch curling irons generate these massive curls. After the curls are set, tease for volume. Add a floral crown and hit the aisle.
51. Side-Swept Hair Bridal Hairstyles
Side-swept hair is famous this season. Try loose curls or your natural texture instead of braids. One-shoulder hairstyles are unique. We recommend hairspray for outdoor weddings with down hair. So if your spring day is humid and hot, you're protected.
52. Simply Textured Tresses
Wear your natural hair texture with a little more oomph for an exquisitely simple look. A little mild teasing or windswept hair will do. Complete your wedding appearance with a matching headpiece.
53. Natural Curls
Curly girls are the same. Natural curly hair should be shown off on essential occasions. To keep curls distinct, protect them from the elements.
54. Slicked-Down Chignon
Try a slicked-down appearance for a completely new aesthetic. Since fashion week, we have loved damp hair. Instead, straighten and chignon for a polished, demure style.
55. Simple Headband Bridal Hairstyles
This simple bridal hairstyle takes the (wedding) cake. Matching headbands are the ultimate low-maintenance accessory. Of course, we love florals, but you could also choose a pearl or flashy headband.
Conclusion
The perfect wedding hairstyle will depend on your style and the overall look you are going for. With the right combination of hair accessories, styling products, and a professional stylist, you can create a timeless and beautiful look that will make you feel beautiful on your special day. Whether you opt for a classic updo, romantic curls, or a modern half-updo, you can create a look that will capture your unique beauty and make you shine on your wedding day.
FAQs About Best wedding hairstyles for your perfect image
How should I do my hair if I'm going to a wedding?
For wedding guests, the most popular hairstyles are the tousled chignon, the high ponytail, the pushed-back sleek hair down, the cascading braids, the fishtail braids, and the Old Hollywood waves. You can also put your hair in a ballerina bun, a top knot, a wavy bun, side-swept waves, a braided bun, or down waves with a lot of volume.
Should you wear your hair up or down to a wedding?
"If you're wearing a strapless dress, you can show off your neckline by wearing your hair down or half up and half down," says Mar. The key is to have loose waves and a soft, flowy style. If the neckline of your dress is higher, our pro says to think about an updo.
How should you do your hair for your wedding?
Sweep and part your hair on your best side, and then hold it in place with bobby pins that show. Add some flat iron waves for a rocker-chic, edgy look. To look like a wedding guest, twist braids into a high bun at the top of your head and add a pair of statement earrings.
How many hours should hair be done before a wedding?
At least one service (hair or makeup) should be done by the time we get there. So keep an eye on the time and start your wedding hair and makeup at least two hours before you need to be done and ready to put on your dress.