Black hairstyles for medium-length hair are becoming increasingly popular with women of all ages. This length provides an outstanding balance between short and long styles and allows various styling options. From sleek and straight to curly and voluminous, black hairstyles for medium hair provide a versatile look that can flatter any face shape.
Whether you are looking to rock a classic bob or an edgy pixie cut, there are plenty of options. You can create a unique look highlighting natural beauty with the right styling products and techniques.
25 Black Hairstyles for Medium-Length Hair
1. Fanned Afro-Style Look
This is a natural black medium hairstyle. Auburn afro-style hair fans out around the face. However, it's looser than a traditional afro, giving it a fanned and freestyle you'll enjoy.
2. Blonde Touched Bangs
This look's highlight is the blonde in the side-swept bangs. The rest of the hair is relaxed and trimmed in layers that start chin-length and become longer around the neck.
3. Side Parted Coils
This layered, cozy hairstyle with a side part. The layers make it long and wide. As a result, it's incredibly bouncy and informal but stylish enough for gatherings.
4. Sleep Space Buns
Space buns are one of the loveliest medium-length black hairstyles. Fun-loving women will love it. Braids decorate the sleek, gleaming space buns.
5. Dual Tone Long Curls
This long, curly style has dark roots and lighter ends. The right side of the hair is significantly parted and volumized. It's so voluminous it seems layered.
6. Chic Neat Low Bun
Were you looking for a simple, everyday hairstyle? This works well. It's a low bun with some texture.
7. Blue Touched Bob
A black bob with blue ends is elegant and effortless. It's asymmetrical, longer in front than in the back, and stylish. Anyone will like styling, wearing, or staring at it.
8. Hugely Volumized Curly Look
The volumes look so far. Dark roots, lighter brown hair. Hair layers create volume. Volume-packed coiled bangs touch the face.
9. Loose Curly Hair
These curls are looser. Wider, looser curls. They're tighter around the face, especially the bangs, but there are plenty of flyaway curls.
10. Tight Curly Bun
Here's a bun for lazy hair days—a simple high bun with an orange and white hair tie. Curly hair is nicely straightened.
11. Medium Length Layered Black Hairstyle
This haircut is excellent for shoulder-length hair or hair that will be cut there. Ask your stylist to layer your hair. Part your black hair down the center and brush both sides.
This haircut is excellent for oval-shaped faces. Try it with off- or one-shoulder dresses and shirts.
12. Side Swept Hairstyle for African American Hair
African American Hair is very soft. This lovely haircut uses African American hair's versatility. Keep hair shoulder-length and straight.
Make a left parting. To finish the look, sweep the majority of your hair to the right of the part. It's stylish.
13. Side Swept Hairstyle for African American Hair
African American Hair is very soft. This lovely haircut uses African American hair's versatility. Keep hair shoulder-length and straight.
Make a left parting. To finish the look, sweep the majority of your hair to the right of the part. It's stylish.
14. Medium Black Hairstyle with Curls
Curls look great on any hair color, and they are incredibly dark. This hairdo enhances lustrous black hair. Create curls at the ends of your medium-length hair.
Straighten and comb the hair on top. Cut a long, sweeping bang. This style is a party-pleaser.
15. Black Hairstyle for Medium-Length Hair
This hairstyle is perfect for silky black hair. The bottom section of your hair needs giant curlers. This look requires no parting.
The front layer of your hair should reach your forehead. It creates a side bang without cutting one.
16. Jet Black Medium Length Curls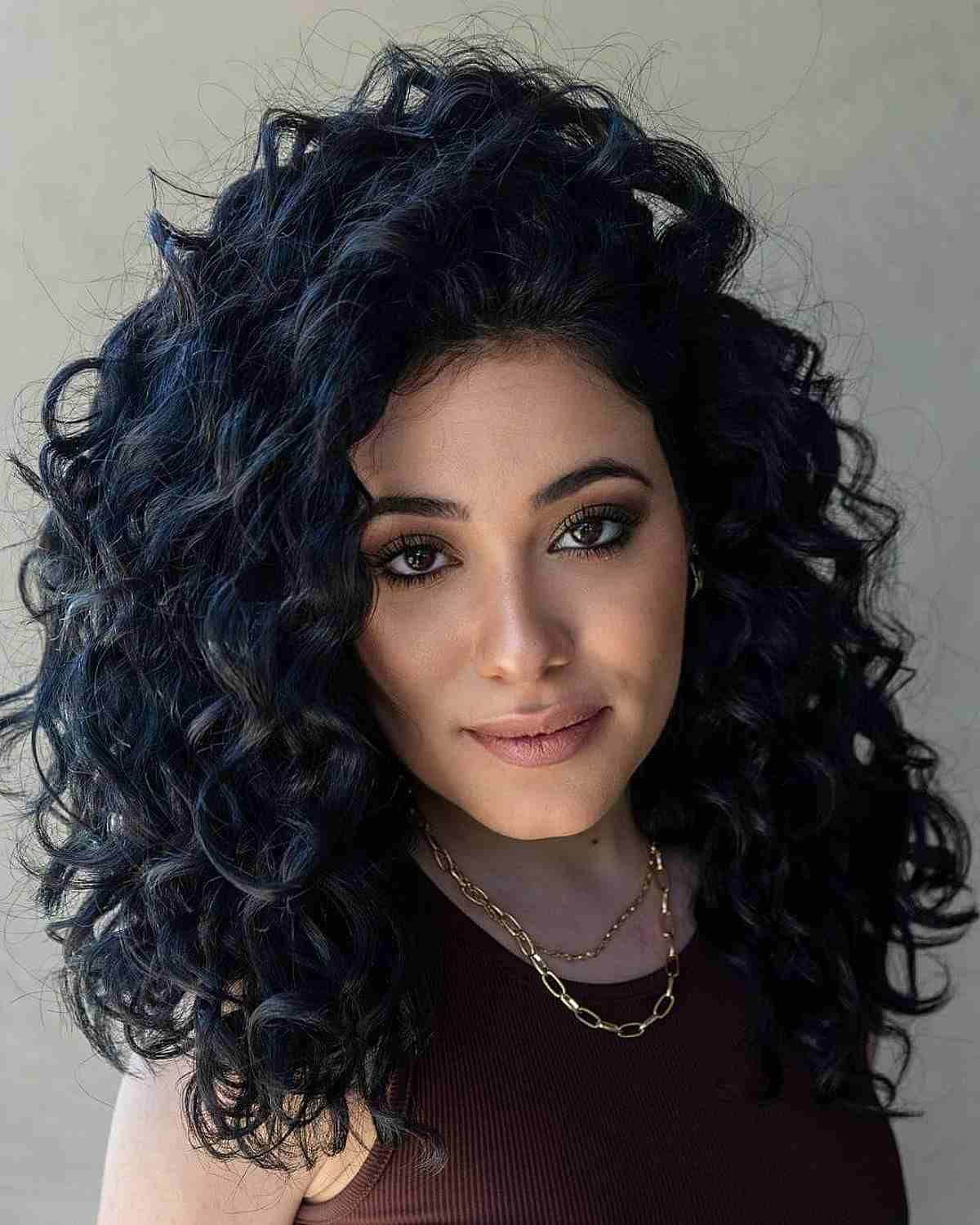 Poker-straight, jet-black hair is ideal for this style. For this look, curl your hair ends and makes a central part.
This looks amazing on long faces. This flatters ladies of all ages. This works with dresses and tops. This is perfect for business and parties.
17. Neck Length Bob
When your hair is cut bob-style to your neck, you appear beautiful. This style suits straight black hair well. In addition, this hairstyle is tidy and formal.
This style requires a middle portion. Sharp hair edges create a whole, prominent look.
18. Layered Medium Hair
Medium-length hair looks great layered. This haircut will give you a charming and prominent face. This style suits black, straight, silky hair. The shoulder-length hairstyle looks best when left loose.
The layer's waves can make you look unique and conspicuous. This style requires a middle portion.
19. Center Straight Part Hairstyle
Straight-haired women with medium-length hair seem attractive. To highlight the face contour, part the hair down the middle.
Straight hair can make you look bold and prominent. However, this style requires neatly combed hair.
20. Bob Cut
Middle-length hair looks fantastic with a bob cut. This design gives you a round, prominent face.
Part your hair from the center of achieving this hairstyle's most incredible look. Black straight hair bobs well.
21. Wavy Medium Hairstyle
Medium-length hair looks unusual and casual on round-faced women with wavy hair. However, this loose-waved, sharp-edged haircut is sophisticated.
It's shoulder-length. Waves provide volume and filling to your hair. To obtain a gorgeous look, part the hair down the middle.
22. Medium Curls
Thick black hair with curls can be cut medium-length for a youthful look. This style is for women who want a disheveled yet classy look.
Curls can offer you a messy look and an excellent facial shape. However, this style requires careful back brushing of the hair.
23. Loose Wave
Medium-length lose, wave hair is perfect for a party. Waves offer your hair a relaxed, messy appeal and round out your face.
Natural black hair works best for this style. To acquire the desired look, part the hair in the middle and comb it.
24. Updo for Black Hair
Medium updo hairstyles with black hair are striking for women. This style has shorter side hair and curled back hair.
The back-of-head updo with casual curls is daring and sophisticated. This style is ideal for partying.
25. Feathered Medium Hairstyle
Round-faced women can look young and lovely with a medium feathery haircut. This style involves shoulder-length straight hair. The front side feather helps cover a large forehead and curve the face.
Longer hair on both sides can be bold. Shorter hair on the back might make hair thicker.
26. Box Braids
Bohemian style fans can achieve the perfect look by box-braiding their medium hair. Box braids are intelligent and calm.
If you want to be unique, do this. Small braids make the style great.
27. Medium Flat Ironed Hairstyle
Medium-length hair looks good flat-ironed. Black hair must be parted and brushed. The flat iron style gives you sharp edges.
Straight hair ends above the shoulder and adds volume. Try this style if your face is round to look pleasant and sophisticated.
28. Medium Curly Hairstyle for Black Women
Medium hairstyles assist in handling curly hair. Side parts and layers add volume and shape. You can cut your hair to taste.
29. Black Medium Wavy Hair
Let side-parted wavy hair flow wild. This classy style can be worn to work or out with friends on weekends.
30. Medium Length Straight Hairstyle
Medium straight hair looks great with feathered side bangs—layer hair for a quick morning style.
31. Medium Black Hair with Bangs
Curly hair looks great with this shaggy medium hairstyle with bangs. Have your stylist cut it when it's dry for a long, glam fringe. This black hairstyle suits women over 50.
32. Medium Hair Braids for Black Hair
Black ladies should wear medium box braids. The protective hairdo can be styled quickly with beads and a half updo.
33. Twists for Black Medium Hair
Instead of traditional braids, try twist braids. Each strand of hair is twisted before being twisted with another strand.
34. Medium Black Ponytail
Shine up straight hair with a medium-high ponytail. Leave flowing bangs to frame your face softly. See black women's ponytails.
35. Thick Medium Hair for Black Women
Women want thick hair. Leave your thick locks loose on a medium hairstyle to make everyone jealous. A hair oil seals cuticles to provide frizz-free, healthy curls.
36. Updo for Medium Black Hair
A bushy ponytail complements a dress or weekend ensemble. To look put-together, smooth baby hairs.
37. Medium Black Hair Bun
A crown bun can be wrapped with an elastic band or curled with a piece of hair. Elegant makeup includes a bright red lip.
38. Black Medium Hair with Highlights
Dark-skinned people should get light blonde or caramel highlights. They'll brighten dark hair and waves.
39. Black Medium Ombre
Medium wavy or curly hair looks great with caramel ombre. The color enhances dark skin and hair. Try black short-and-curly hairstyles.
40. Messy
Curly medium-length hair looks great with a bedhead. Use your fingers to apply products to avoid a too-perfect look.
41. Medium Length Weave
A weave offers instant style and flexible color. For example, a gorgeous light blonde will give you summery vibes.
42. Should Length Wedding Hairstyle for Black Women
Romantic style is essential for your wedding. This bun updo can be adorned with a rhinestone headband or barrette.
43. Black Women With Medium Blonde Hair
Any woman who wants a change should become blonde. Let color shape your straight hair, whether platinum or dark blonde.
44. Black Space Buns
Try space buns instead of a ponytail. You can wrap them tightly or let them loose. Baby hairs can be smoothed or left free.
45. Curly Mohawk
A thick, curly mohawk is edgy. Side braids make this punk-rock style feminine. Longer hair can also wear braided buns.
Conclusion
Black hairstyles for medium-length hair can be a great way to add some extra flair to your look. Many options work for any occasion, whether you choose a curly, wavy, or straight style. You can create a beautiful and unique look with the right products, tools, and styling techniques.
FAQs About Black Hairstyles for Medium-Length Hair Ideas
What style of hair makes you look younger?
Straight hair can make you look older, while loose waves make you look younger. Try different layers around your face to give your hair softness and movement. Adding layers to your hair can also make it look more full and healthy. Parra says to ask your stylist for straight-cut layers around the edges of your hair.
What gives a face a younger look?
Microdermabrasion, Light Peels, Micro Laser Peels, and the Clear & Brilliant Laser treatment are all skin brightening treatments that help patients look at least ten years younger after just a few treatments. You can use these treatments to fight wrinkles and other signs of aging on your face—age spots.
What makes a woman look younger naturally?
A skincare routine can significantly affect a woman's skin and naturally make her look younger. Face massage helps blood flow and makes the skin more flexible. Part of taking care of your skin is massaging it every day. In addition, collagen production is improved by eating Vitamin C-rich fruits, vegetables, and supplements.