Blonde hair color chart are essential tools for anyone looking to switch up their look. Whether you're looking to go lighter or darker, a blonde hair color chart can help you find the perfect shade for you.
With a variety of shades ranging from light ash blonde to deep golden blonde, you're sure to find the perfect color for you. With the help of a blonde hair color chart, you can achieve the perfect shade for your hair in the comfort of your own home.
Blondes and people who want to dye their hair blonde should know about blonde hair color charts. As you know, the blonde hair color chart is not split into dark and light shades. This is because the different shades of blonde you see on people are a mix of many different colors.
1. Icy Blonde
Icy blonde is the most fantastic shade on the blonde hair color chart, but not because it looks like snowflakes are falling on it. Most girls with pale skin and blue, green, or grey eyes choose this winter color. To get this color to show up, it's best to start slowly with a pale yellow tone.
2. Pearl Blonde
You'll love the pearl blonde color if you like to look classy. Pearl blonde is another color with a calm tone that goes well with fair skin and light eye colors like blue and grey. This color is one of a kind because it is a little bit bluer than icy blonde and a bit softer than silver blonde.
Don't Miss these:
Best Black-Blue Hair Color Ideas for Women
3. Champagne
Champagne blonde is called the trendiest shade of blonde for a reason. It looks like a mix of blonde and rose gold. Champagne blonde is a step toward other blonde shades.
4. Blue Black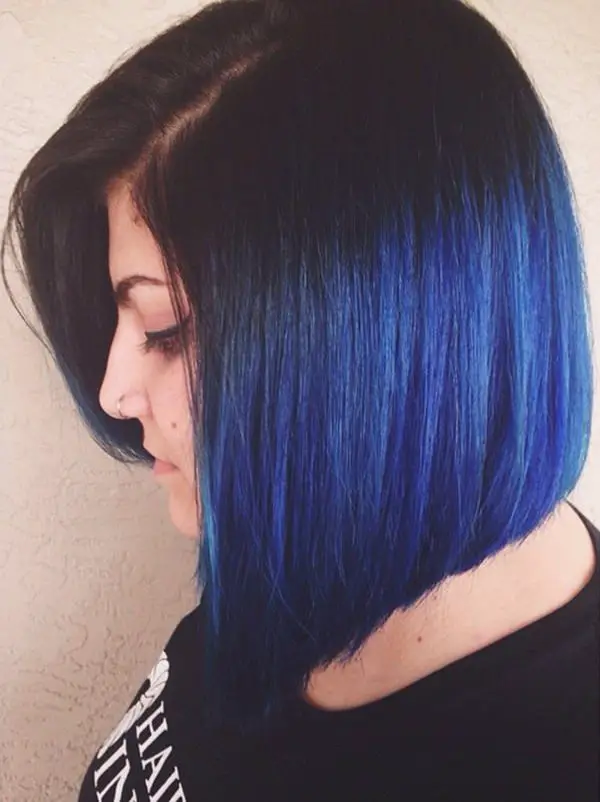 You want to add some blue to your tone, but you want to do it more understatedly. If you already have dark hair as a foundation color, you should talk to your colorist about getting blue-black hair.
5. Silver Blonde
How do you feel about the excellent, ashy blonde color that gradually turns silver? Silver-blonde hair looks good on people with fair skin and light eyes, but don't worry if you have warm skin. Things will be fine with a warmer tint.
6. Golden Platinum
The most beautiful jewels melted together to make a golden platinum blonde color. In addition, some golden highlights warm the palest platinum tone, so people with fair and medium skin tones can wear this fantastic color.
7. Buttermilk
The buttermilk blonde is meant to give brown hair some blonde highlights. It looks good on girls with tan skin and light to medium-colored eyes, like blue, gray, or light brown. Gentle caramel tones blur the line between blondes and brunettes.
8. Yellowish Platinum
Girls who can't decide on hair color and want something trendy, calm, and bright should get to know the yellowish platinum blonde shade. It's easy: the yellowish-blonde base is set off by silvery balayage strands. This color is meant for people with fair skin and light-colored eyes.
9. Cream Soda
As soon as you see the cream soda blonde color, you'll know what this bubbly caramel drink tastes like. This beautiful color is a cross between blonde and brown hair. It mixes beige, brown, and warm gold tones softly so that any girl can try it.
10. Golden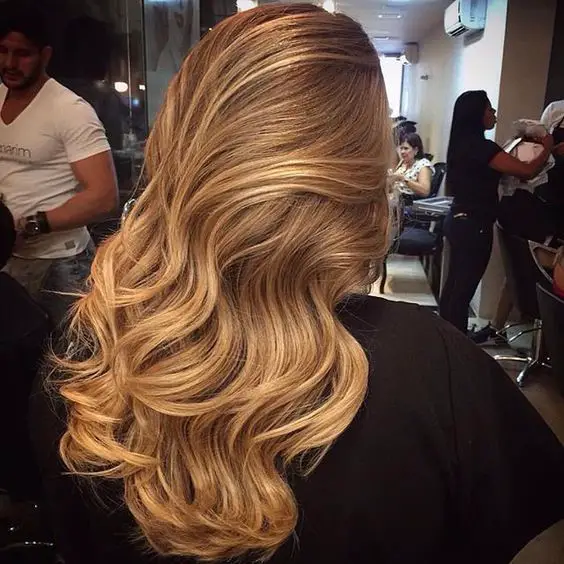 The blonde with golden hair will teach you what luxury means in fashion. It's a mix of honey, gold, and butter colors that look great on girls with fair skin and light-colored eyes like hazel, grey, and blue.
Other Colors to Pick: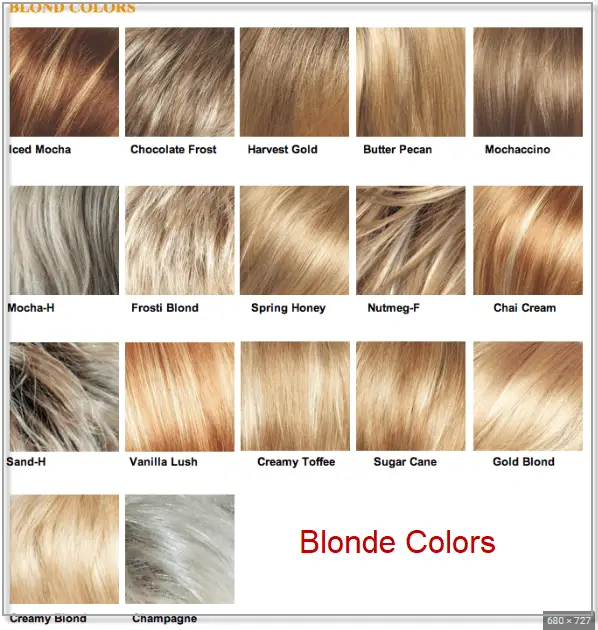 11. Creamy
It's as cute to look at as it sounds. Because it is a fabulous blonde shade, creamy blonde hair makes us think of winter. It looks good on people with light to dark skin and dark eyes. Ask your colorist for cream balayage with a butter tint on the crown to get this shade.
12. Bright Golden
Girls with medium-toned skin who fell in love with the golden blonde will find comfort in the bright golden blonde. This color is a darker version of the blonde with a golden tint that looks natural. So, it's time to go blonde to bring out your green or brown eyes!
13. Sandy
You can see everything about summer in the blonde hair color chart. And the sandy blonde color isn't the only one. It's a soft, warm color that looks best with light skin and eyes. Mix it with beige balayage on the ends to make it more interesting.
14. Warm Caramel Blonde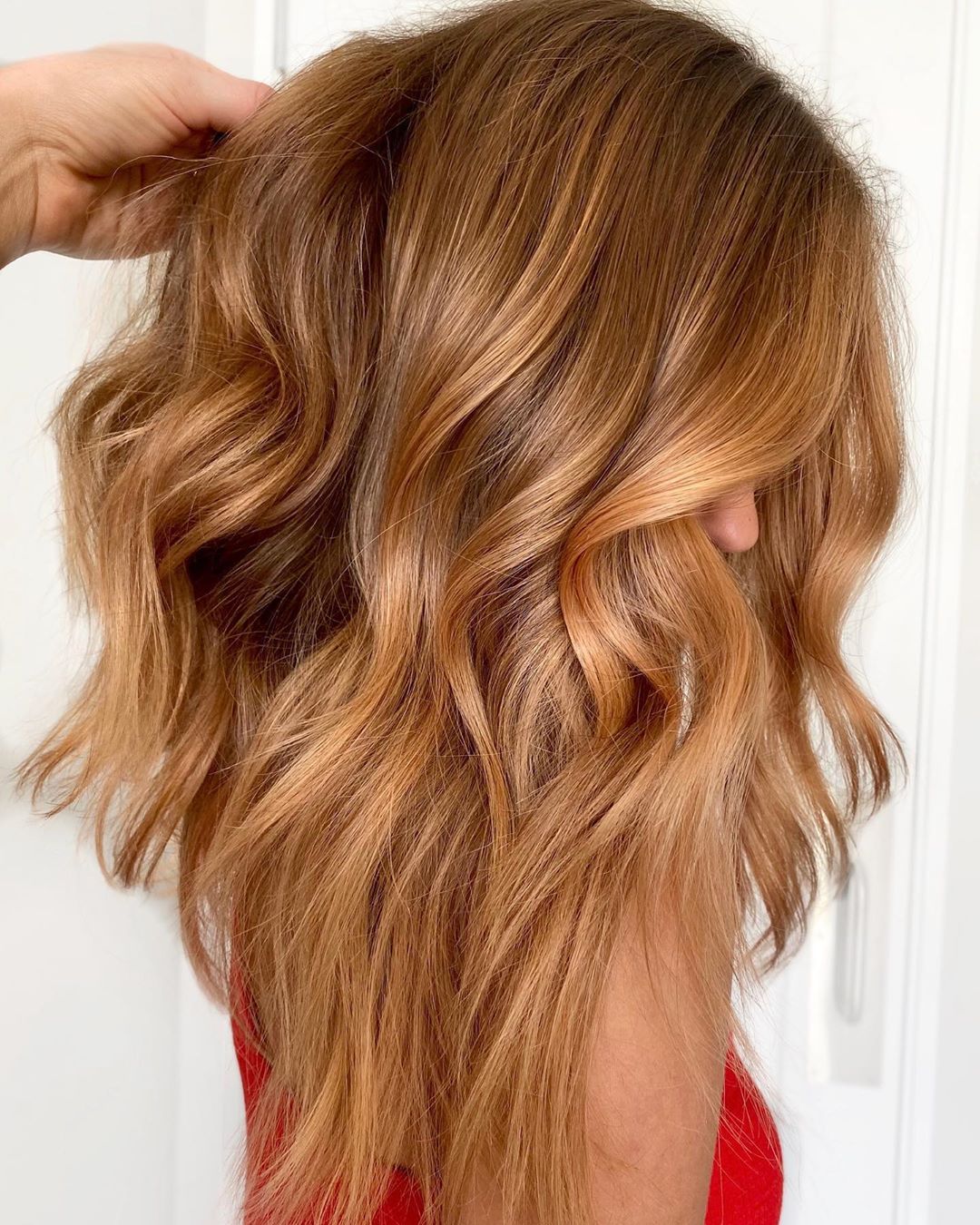 Bella Hadid is attempting to take her sister Gigi's blonde crown. However, Hadid left her roots untouched to retain the overall look between brown and blonde.
15. Warm Honey Blonde
We love Serena Williams' honey-blonde hair. The warm color complements her skin tone, giving her a G.O.A.T. shine.
16. Reid Blonde
"The root color breaks up the overall look." "Her eyebrows interrupt the depth and call attention to her eyes and face." Well-placed color makes the honey tone smooth and natural, complementing her complexion.
17. Cool Platinum
Lady Gaga's golden tones balance out this trendy, pale platinum tint. Dell Miller, a colorist at Spoke & Weal Los Angeles, thinks Lady Gaga's bronzes give her a real platinum with warmth. "Her golden skin turns orange if her hair is too ashy." A platinum-to-vanilla blonde with controlled warmth is a daring look. Don't sweat your roots. It's appealing.
18. Silver Blonde
Lucy Boynton's lovely skin complements her silvery, near-white blonde hair. Miller says Lucy's blue eyes complement her silvery blonde hair. Because Lucy has depth at her base, the ash tones in her hair don't wash her away. Her brown roots make her look less striking and more natural. Dark brows will ground your looks.
19. Creamy Platinum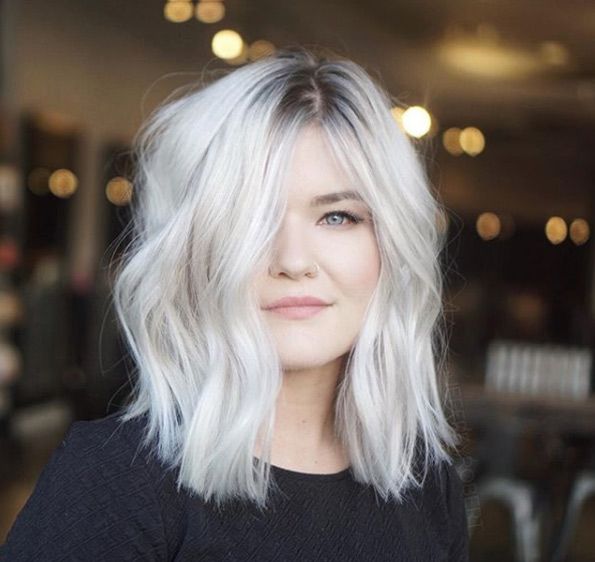 Anya Taylor-red Joy's wig in The Queen's Gambit. Her Old Hollywood-style hair dropped jaws on the red carpet. Mark DeBolt, the co-founder of Mark Ryan Salon, says Anya's uniform blonde hue is remarkable. "I like that platinum isn't too yellow or ashy/gray. Balanced, creamy blonde." This color looks good on her.
20. Whipped Butter
Billie Eilish's transformation from green-and-black to platinum shook the Internet. It wasn't easy. The singer/songwriter spent weeks in a salon chair to go blonde. The color is gorgeous.
"It's warmer than a standard platinum blonde, but it works for her," adds Gibson. It highlights her eyes. Gibson thinks Eilish will reach platinum next, merely a stop along the route.
21. Tawny Gold
Golden girl? Rita Hazan calls Ciara's honey-ish color "natural and gentle." Leave your roots dark (or ask your colorist for a dark brown base), then add highlights. Marie Robinson, a colorist, recommends mixing golden and paler beige tones. Keeping brown roots close to your skin prevents washout.
22. Ash Blonde
"Ashy" is a colorist buzzword, like "brassy." Julianne Hough looks natural. The color edges white instead of orange. And darker highlights are incredibly flattering. "Julianne's neutral complexion with a cool undertone complements her ash blonde hair," says Miller.
23. White Platinum
Cynthia Erivo can wear almost any color, even none. This bleached-out tone looks best on short hair. First, it can damage long hair, and second, it looks sharper against darker skin tones. Cynthia's contemporary haircut with platinum white blonde complements her skin tone and helps her stand out, says Rob Peetoom Williamsburg colorist Hitomi Ikeda. She bleached her eyebrows and hair seamlessly.
24. Pale Blonde
Sophie Turner's beautiful blonde hair looks great against her rosy skin. It works well with a light base; otherwise, it can look forced. Ikeda says pale blonde hair complements warm tones. Sophie's golden hair emphasizes her skin's warmer tones. However, Turner's cosmetics, especially pink blush, prevent her from looking pale.
25. Dark Blonde
Elisabeth Lovell, the co-founder of Whiteroom salon, describes Miley Cyrus's dark blonde "fall cooldown hair." It's a good fix for brassy blonde hair.
If so, ask your colorist to mix your roots with an ashy, light brown and weave in light pearl ribbons. "Ask for a golden blonde tint with brilliant highlights around the face," advises Jung.
26. Honey Blonde
Honey blonde, an excellent warm-toned shade with flecks of gold, brown, and red, is the perfect hair color for those who have blue eyes and warm undertones in their skin. Honey blonde is a delicious warm-toned shade with flecks of gold, brown, and crimson.
27. Buttercream Blonde
Because of buttercream blonde, you can put an end to the internal debate you've been having about whether you prefer warm or cold tones in your hair. This warm, realistic shade strikes the ideal balance between cool and warm tones, revealing its full beauty across a wide range of skin tones.
28. Burnt Sienna
There is a shade of red hair that complements everyone's eyes and skin tone, but if you have blue eyes and a fair complexion, the best option for you is a fiery copper-red color like burned sienna.
29. Chocolate Balayage
We will never grow weary of hair colors inspired by our favorite candies, mainly when they are as deep and multi-dimensional as chocolate brown. Chocolate brown is one of those colors that will bring out the blue in anyone's eyes, no matter how light or dark their natural hue may be.
30. Classic Blue
To go well with your baby blues, the color of your hair doesn't even have to be on the complete opposite end of the color spectrum from them. You can give yourself a surprising and striking appearance by dyeing your hair the same shade of blue as your eyes.
Willing to experiment with color just as lively as the traditional blue? Make sure you replace your typical shampoo and conditioner with a system such as Matrix Total Results Keep Me Vivid Shampoo and Conditioner as soon as possible. This sulfate-free method cleanses and conditions the hair softly, helping to preserve the vibrancy of hair colors that tend to fade quickly.
Conclusion
The Blonde Hair Color Chart is a useful tool for anyone looking to find the right shade of blonde for their hair. It allows you to compare different shades, as well as look at how various lighting can affect the color of your hair. With the help of this chart, you can find the perfect shade for you and achieve the perfect look for your hair.
FAQs About Blonde Hair Color Chart
What level of blonde best suits my complexion?
The appearance of your veins is all required to make this determination. If you have blue or purple veins, it indicates that your undertones are fantastic; however, if your veins are green, it indicates that your undertones are warm. You have what's known as a neutral undertone if you have a combination of the two, which means you have more options when it comes to shades of blonde.
Which shade of blonde is the most sought-after by women today?
Platinum Blonde is the color that appears when you search for "blonde hair color chart 1." This bright shade is consistently ranked among the most well-liked blonde hair colors.
Which shade of blonde brings out your youthful features the most?
If you are interested in knowing which hair colors can make you appear younger, think about coloring your hair in caramel, honey blonde, gold, coppery tones, or strawberry blonde.
How can you convey to your hairdresser the shade of blonde you desire?
If you enjoy blondes that have tones that are more ice, gray, ashy, or pearl-like, this indicates that you prefer blondes that have a chilly tone. On the other hand, if you have more pink, blue, or red undertones to your skin, the optimum hair color for you is a more excellent shade of blonde. Tell your stylist that you want a darker shade of your natural blonde hair color and a "cool" toned blonde to be created for you.