Blonde hair with dark roots is a popular trend among people looking to make a statement. It is characterized by a lighter blonde shade at the ends, while the roots are left dark. This look is particularly flattering for those with lighter hair colors or pale skin tones, as the dark roots help to give the hair more dimension. It can also be used to hide any existing gray hair or to add a bit of contrast to an otherwise monochromatic look.
Amazing Blonde Hair Color Chart
Do you want to go blonde? Welcome to blonde looks with a dark base and brown roots. This article discusses some of the prettiest and trendiest girls' looks. If you desire blonde hair but want to spend only a little bit of time or money on it, read on. Here's your new look.
Who Should Go For This Hairstyle?
Women with brown hair may carry off blonde looks easily. You may easily add blonde highlights or color on top. This look is entertaining and easy to accomplish without being high maintenance.
How To Achieve Blonde Hair With Dark Roots?
Let your dark hair grow and reveal your roots. When your hair is the correct length and color and bleaches it, this look is easy, but book a hairstylist who can handle transitions or balayage highlights.
Is This Look Pricey or Hard To Maintain?
The outcome determines this. This color touch-up and switch-up cost $80-$150. To combat the yellow undertone, use shampoo and toner.
1. Voluminous Blonde With Dark Roots
This cute, dirty blonde look is perfect for any occasion, whether you're headed to the office or a party.
2. Natural Brown Base With Highlights 
To achieve this fantastic result, you need to add some blonde highlights to the brown base you already have.
3. Long Blonde Hair With a Natural Base
If your hair is naturally long, you should consider adding some highlights in the style of ombré or balayage to make it look more attractive.
4. Chocolate Hair With Blonde Highlights 
The combination of a base of chocolate brown hair with some essential blonde highlights would work so beautifully and look so adorable on more older women.
5. Icy Blonde Hair With Dark Roots
This frosty blonde will appeal to younger women and those who enjoy contemporary and cutting-edge concepts.
6. Elegant Hollywood Waves Blonde Hair With Dark Roots
Consider going for this wavy appearance if you want something elegant and formal.
7. Blonde Hair With Dark Roots Blow-out
This medium brown base with lighter highlights will look great on people of any age and hair length.
8. Blonde Wavy Hair With Dark Roots
Using this coloring approach, you may give your appearance more pizzazz and make it more appealing.
9. Straight & Sleek Blonde Hair With Dark Roots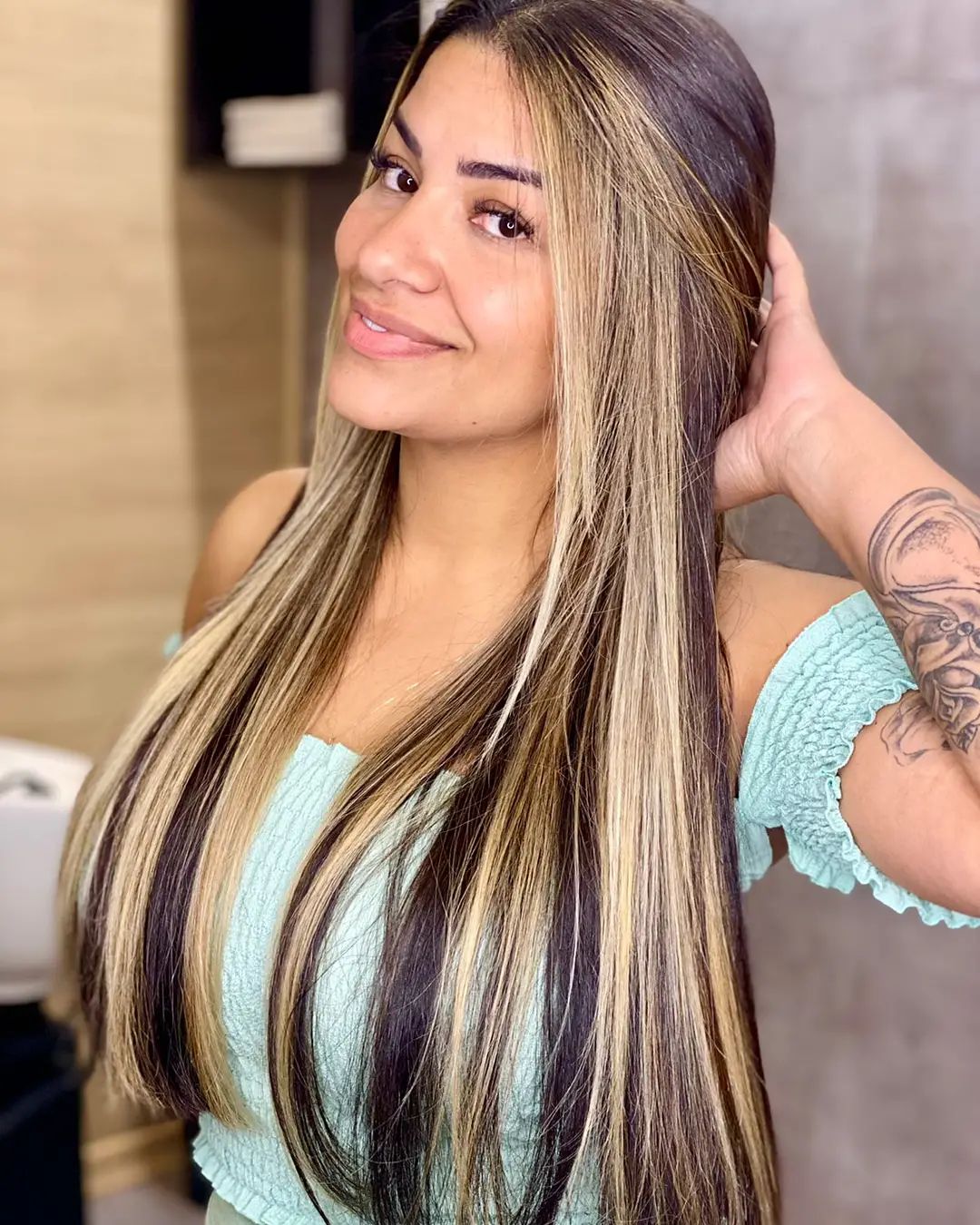 These highlights on top of your brown foundation will look great with your straight hair, which is a prerequisite for wearing them.
10. Elegant And Wavy Blonde
This beauty is perfect for women seeking a more formal appearance or who have a birthday party coming up and want to look their best.
11. Blonde Hair With Dark Roots For Everyday 
To make your brown base look more appealing, add some highlights of blonde color to it.
12. Natural Blonde Hair With Dark Roots
The most extraordinary candidates for this hairstyle are ladies in their twenties because of its lengthier nature.
13. Icy Silver Blonde Hair 
If you appreciate snowy and contemporary ideas, you should stick to this light blonde and frosty silver vibe.
14. Wavy Natural Blonde
Brushing out your hair can help you achieve a significant volume and allow you to enjoy some adorable loose waves.
15. Light Blonde With Icy Undertones
You can achieve a charming semi-formal night-out hairstyle by tying your hair in the back. The result will be blonde hair with a brown background.
16. Straight Blonde Hair With Dark Roots
This style will look great on you if your hair is naturally straight or if you wear your hair in a bob.
17. Short Blonde Hairdo
Choose to highlight the attractiveness of this style by going for a blonde shade with a yellow undertone and wearing it daily.
18. Blonde Hair With Dark Roots For Everyday Wear 
Use The coloring and maintenance of your hair will need to be touched up and often maintained if you choose to wear this haircut.
19. Low-maintenance Blonde Hair With Dark Roots
This hairstyle with frontal parts is the perfect example of how one's hair and color can bring out their best facial features.
20. A-line Bob Blonde Hair With Dark Roots
You can make a subtle change to your look by adding this highlight to your hair if your natural hair is straight and dark brown.
21. Straight Blonde Bob
 Women in their thirties are the ideal candidates to wear a shorter bob hairstyle and this blonde look successfully.
22. Retro & Loose Blonde Hair With Dark Roots
If you are still deciding if you want to try something new and want a makeover that will complement your characteristics, consider getting these side-swept bangs instead.
23. Straight A-Line Blonde Bob
This is a look that will appeal a great deal to women who are well into their forties.
24. Chopped Short Hair Blonde Look 
This new hairstyle will help you bring out your adorable side by giving your hair more volume.
25. Short Icy Blonde Hair With Dark Roots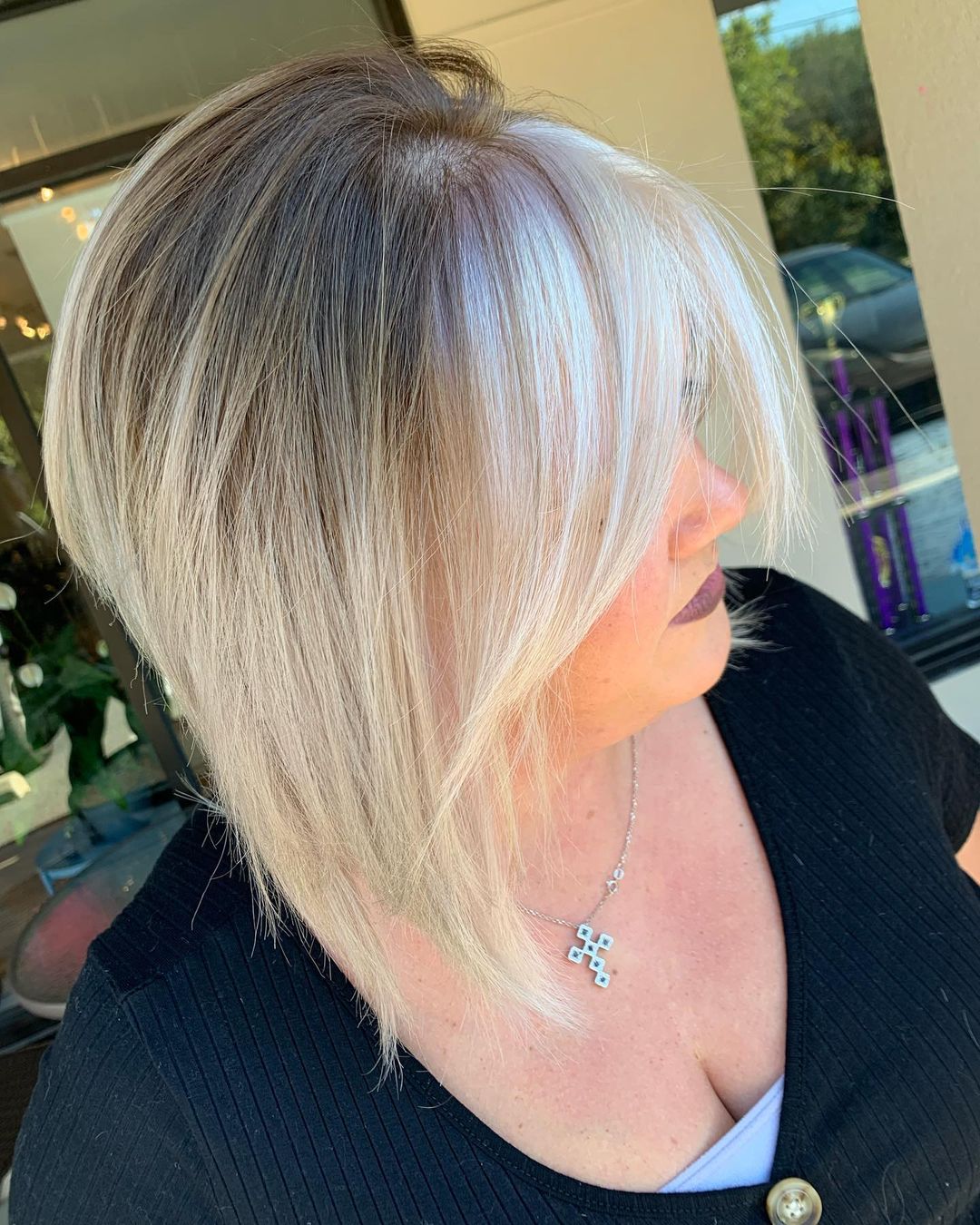 A Hollywood appearance can be achieved with icy blonde hair and a base of dark brown. Why not try it if you know how to keep this hue intact in the long run?
26. Ombre Blonde Hair With Dark Roots
To add flair to your typically highlighted hair, try adding adorable waves and curls to the ends.
27. Short Balayage Blonde Hair With Dark Roots
This outcome will appeal to women who prefer highlighted hairstyles such as ombré, balayage, or both.
28. Defined Bob Blonde Hair With Dark Roots
This lovely short blonde bob will look cute on women who prefer low-maintenance and effortless styles. Likewise, it will look adorable on women with round faces.
29. Short Chopped Pixie Blonde Hair With Dark Roots
This hairstyle demonstrates that even the most adorable trimmed pixie cuts can be styled in a sophisticated and up-to-date manner.
30. Short Blonde Hair With Dark Roots
This charming and trendy shape is best suited for middle-aged or older women in their forties or fifties. It is flawless as well as simple to maintain and fashion regularly.
31. Sassy and Delightful
This three-dimensional bob is nothing short of a work of art! The combination of a platinum blonde base and naturally brown hair creates a look that is both chic and on-trend. Additionally, due to the mix, the hairstyle requires very little care.
32. Long Blonde Hair with Dark Roots
Choose to style your hair in this beautiful, dreamlike way to highlight the splendor of your long, voluminous strands. You can astound everyone with your new hairdo by combining face-framing layers with lovely blonde highlights.
33. Blonde Balayage and Root Touch Ups
Ask the hair colorist for highlights to be mixed in with the dark brown roots so that you can achieve this lovely champagne blonde hair color. Consult with a colorist you believe in since creating a stunning color transition from the unaltered state involves expertise and skill.
34. Natural Roots and Beige Blonde Highlights
You should remember the time-consuming process of regularly dying your hair now that you have access to this hair coloring method. However, you can skip the effort and preserve this unique look for longer if you brighten your mid-shaft and combine it with darker roots.
35. Buttery Tones on Natural Brown Hair
Highlights in a buttery blonde color and wavy layers are a match made in heaven! To achieve a look as carefree and fun as this one, tousle up your bob and then use a texturizing spray to keep the look in place.
36. Dimensional Golden Curls with Dark Roots
Astonish everyone with your stunning golden curls! This hairstyle will make you the center of attention wherever you go—whether on a date with your significant other or meeting with your coworkers.
37. Ash Blonde Pixie with Dark Roots
This blonde pixie bob is trendy! A nape undercut makes blonde hair with dark roots edgier. Stacking layers add volume on top, and a side fringe elongates the face.
38. Sassy Blonde Ombré
Try this blonde balayage with dark roots to brighten your brown hair. Very delicate and natural.
39. Long Shaggy Cut for Blonde Hair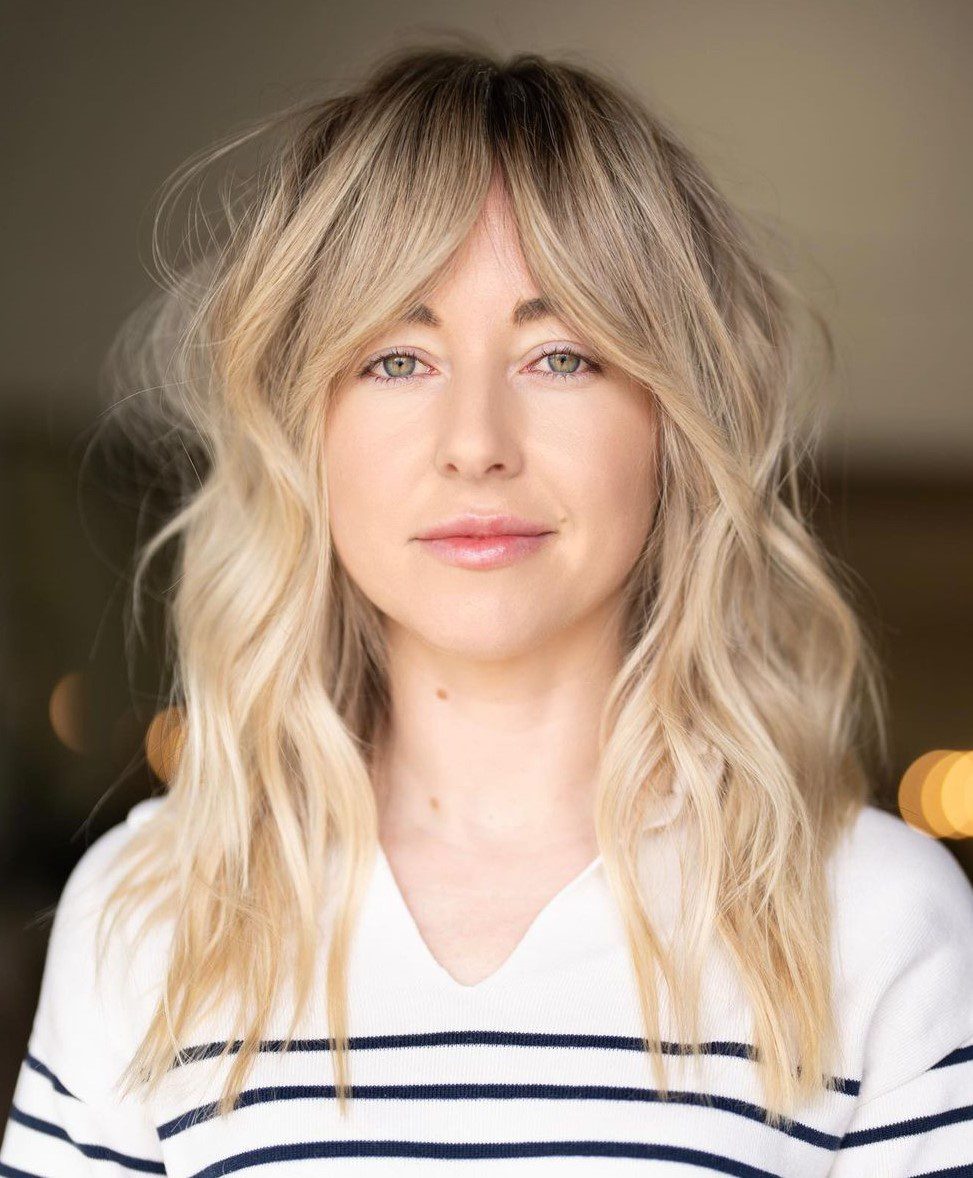 This shaggy balayage haircut frames your face beautifully. Use a styling product and backcomb your dark roots to lighten your hair.
40. Strawberry Blonde Hair with Shadow Roots
Sun-kissed beach waves are beautiful. Warm blonde tones and root shadows give this style depth.
Conclusion
Blonde hair with dark roots can be a great style choice for creating a unique, eye-catching look. From a bright, sun-kissed blonde to an edgy, ombre-inspired style, there are plenty of ways to style and wear blonde hair with dark roots. This look can be easy to maintain and rock with the right products and care.
FAQs About Blonde Hair with Dark Roots
What do you call blonde hair with dark roots?
Dark roots and blonde hair, also called "shadow roots," are a way to color your hair so that your natural brown roots blend in with your blonde hair. Less. Tina Watson.
Can you have dark roots and still be blonde?
Ombre hair is another way to have blonde roots. With this method, the roots will be dark, and the ends will be lighter, creating a gradient effect. It can be done with traditional highlights or balayage for a more natural look.
How do you make dark roots look good with blonde hair?
Ask your stylist to use the sombré technique if you have beige blonde hair with dark roots. Sombré hair is like ombré's more subtle sister. Its name, "soft ombré," means that it has a darker brown color at the roots and a lighter color from the middle of the hair shaft to the ends for a more subtle look.
Why do the roots of some blondes look dark?
Why do some blondes have darker roots than the rest of their hair? Since the sun makes your hair a little lighter. The hair on top of your head is new and has yet to be in the sun much. So it's usually a little darker.
Should the roots of your hair be darker than the rest?
Remember that roots are slightly darker than the rest of the hair but not warmer, so hot roots look unnatural and unwanted.