Lips without lip color is like cake without frosting.
I am a huge lipstick junkie. I'm always adorned with pigment-rich lips, no matter the occasion. It'll sport a nude pink when I'm feeling flirty. A ruby red for a romantic dinner. And when I need that extra boost of confidence for a job interview, bold mauves are my go-to shade.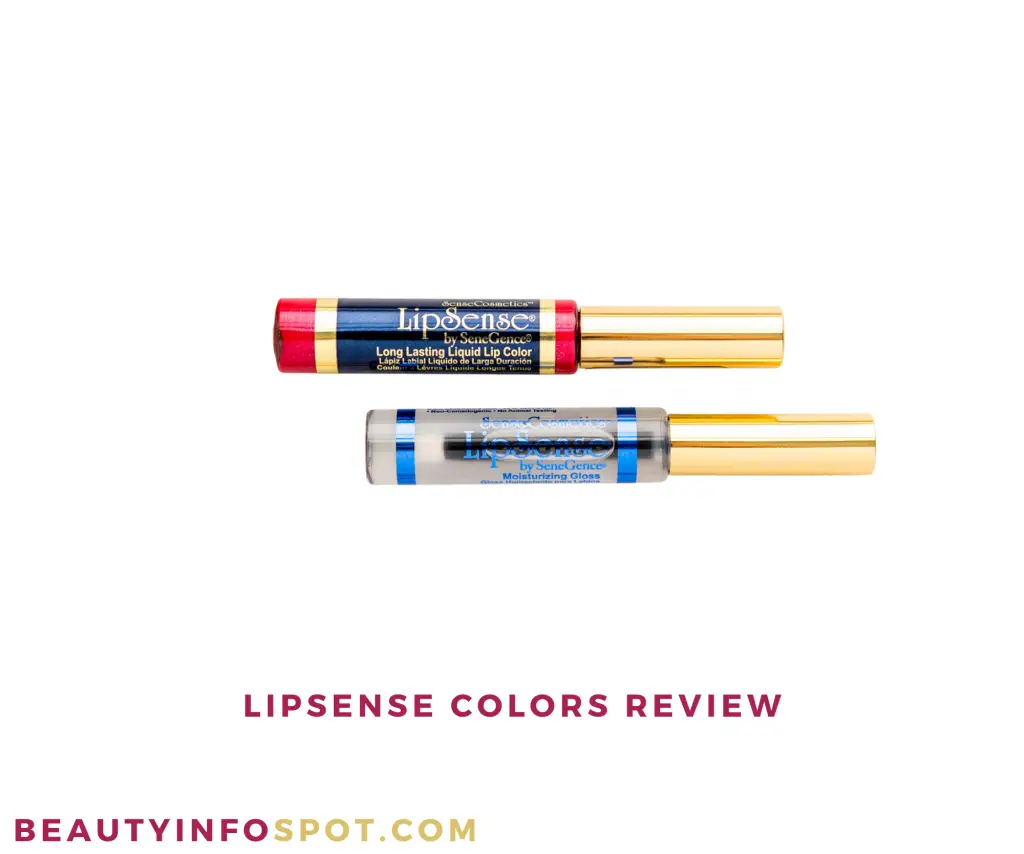 My choice of lip colors is not only informed by the occasion but also my mood. So when I came across Lipsense Colors which features 50 colors, I knew there was no occasion or mood I would fail to rightly represent or express.
What is Lipsense Colors?
Have you ever come across a lip product that's long-wearing, non-transferable, and looks hella gorgeous? That is lipsense for you! It's obviously made by sorcerers because it has braved the unimaginable on my lips.
It has lasted through smooches on my boyfriend, iced teas, and burgers, not to mention blowing my nose. I even tried rubbing it off vigorously and it stayed put. Impressive won't you agree? The only way it can come off is by using their Ooops! Remover.
Were it not for the slight tinge I feel when applying it and the heavy smell of alcohol it carries, it would be the perfect lippie in my books.
As for the shades, if you can imagine it, they've got it. You have your luscious mattes, sexy sheers, fun frosts, and exciting sparkles. It's quite easy to get confused with such a wide range of textures and colors.
Finding the right color for your skin tone
A pal of mine once admitted to me that it was easier for her to work out advanced calculus than pick out the right lip color for her skin tone. Surprised? I bet not. I know I've been there. It's always "too much of something" – or "not enough of something." Case in point, if it's not too bright, it's too dark. I've had some spectacular fails before I figured out the right lipsense for my skin tone.
I once showed up to work in a neon orange shade that had me looking like a gaudily painted clown. Trust me; you don't want to be the butt of every joke in the office. They never let it go.
I've tried to make the process a tad easier by explaining the basics.
Know your undertone
Allow me to digress a bit. I promise it will be worth it. I come from a mixed-race family. My dad is African-American with a rich dark skin tone. My mum, on the other hand, is what you'd call a fair maiden quite literally. She is so drained of color; you'd be hard-pressed to spot her on a white background. Ok, that's a bit of a stretch but you get the gist.
The duo was blessed with three girls. Each with its own unique hue; olive, golden, and fair. Despite the varied skin tones, we fall into two major categories. My fair-skinned mum and I sport a cool undertone whereas the rest have warm undertones. Over the years, I have learned never to borrow any lipstick from my sisters. It never ends well. Why? Our undertones are worlds apart.
Wondering what yours is? Take a look.
Image source: pinterest
Cool undertone
Does your skin have a bluish, pink, or red tinge? If yes then you are one cool mama (pun intended). If you are unsure, check whether the veins under your wrist carry a blue-purple hue. Cool-toned ladies often have green, blue, or grey eyes.
Naturally, you will look great in lip colors that have a blue or purple undertone. However, stay away from orangey shades; they tend to wash you out. I learned this the hard way. Magenta reds with pink undertones will also complement your skin perfectly. What of rosy pinks? Yeap you can pull those off too. Try donning in the following lipsense colors:
Pro tip: you'll look better in platinum and silver jewelry.
Warm undertone
Warm undertones have a golden, yellow, or olive hue. Think of medium to dark-toned folks. The veins under your wrist will have a greenish-brown look and you pull off gold jewelry like a Madonna. Personally, I am a huge fan of how your skin turns golden brown when you're out in the sun. It's as if the tanning gods had shone upon you. How can I forget your brown, amber, and hazel eyes that can cast a love spell on any man?
Oranges, tangerines, reds, shades of coral, and beige should be your go-to colors. Here are a few examples in the lipsense colors range:
Neutral undertone
Aah, to be neutral-toned is to have the world at your feet. There are no bounds to the lip colors you could sport. The list is comprehensive because your body has both warm and cool undertones. You can experiment with all lip colors and look like a goddess in every shade.
Nudes
I love donning natural-looking lip colors for everyday wear. It accentuates my beauty without making too much noise. What's more, it pairs well with every look and outfit in my closet. The most popular nudes available in the lipsense kit include:
Bombshell– A soft nude, with a shimmer finish for warm undertones.
Bravo– Warm undertones for the win! This matte lip color is a delicate nude pink that marries well with any look.
Nude– The matte plum lippie is best suited for neutral undertones. It's bold enough for a power look and playful enough for date night.
First love– A nude pink matte lip color for neutral-toned folks.
Reds
If ever I were to be a superhero, a red lippie would be my cape. When I need to turn heads in an event or please a special someone, I always bust out my red lip color. You can do the same with these lipsense shades;
Blu-Red- If you ever need to pop, believe me, this matte lip color will rise to the occasion. It has a fire-engine red tinge best suited for cool undertones.
Fly Girl- This is a timeless cherry red lip color that's found its way on many runways. Warm and neutral undertones rock it best.
Mulled wine- A matte lippie so deep and rich, it can transform any drab look to instant fab. Its bold look contrasts perfectly against cool undertones.
Samon – it is a bright red coral lippie with a matte finish. It's able to brighten up any subdued look thanks to its orangey tinge. It's best suited for warm undertones.
Mauves
I have always associated mauves with granny makeup. Why? Well because they feel safe and grown. But lipsense gave it a new youthful twist that had me intrigued. The shades are a percept blend of lavender and dusty rose.
Praline Rose- if you'd rather your mauve be more on the beige side, this is the one. It has a stunning matte finish for cool undertones.
Bella- the matte lipsense bella color is for belles looking for creamy mauve brown. Neutral undertones wear it best.
Napa- this lippie has that extra purple kick for cool-toned folks. The fact that it's shimmery makes it all the more alluring for a youthful look.
Pink
I am generally a girly girl. As expected, I always gravitate towards pink shades when I need that extra dose of femininity. It's my good luck charm for first dates. Try these shades and start your own lady-like tradition.
Pink Champagne – has a frosted texture for cool undertones. The barely-there pink can easily fool a not-so-keen eye to think it's a natural lip color.
Aussie rose –It has a playful shimmer finish that shed off years from your face. The rosy coral pink lip color is for cool undertones.
Fire n ice- a befitting name for cool undertones. it's a dark pink frost lip color that is cool/frost dark pink
Apple cider warm matte creamy light pink with a hint of tan
LipSense Color Chart
It's finally happening! No more smudges, stained teeth, and cups, or lipstick reapplication every 2 hours; all thanks to waterproof and sensible LipSense Colors.
I don't know much about you but, I believe that we have something in common – we are hate-buddies! Yup, you heard that right! We hate the not so polite, and deeply embarrassing 'lipstick on your teeth' alerts. And that means that we are always searching for the next best lippie. We have had our fair share of temporary relief, but, we are not close to giving up – even if it means staining Mr.'s shirt, every once in a while.
It would seem, however, that our long search for the perfect shade that lasts long is finally coming to an end, we can all wear our red lippies and paint the town red thanks to LipSense Colors. And with the LipSense color chart, a magical rainbow of delightful hues, there's something awesome for every woman.
Smudge-free, budge-free, perfect tone for your skin, the perfect blend for your hair color, and perfect lippie that lasts up to 18 hours! Sounds like the exact lippie you have been searching for, right? Well, thanks to LipSense, you get all these, and a lot more!
LipSense is a premier product by SeneGence. Unlike the conventional lipstick, you are so tired of; you don't have to deal with lippies that leave you looking garish or deal with stains. It is a waterproof, non-smear lippie that doesn't kiss off, budge-off, or rub. And the best bit is that you get to create your unique color palette by mixing colors from more than 50 shades.
Wider Variety
With the right shades for the cool and warm undertones and even the ones for neutral undertones and a wide color range, LipSense has everyone covered – from the fair and wheatish complexions to the olives, dark skins, brunettes, redheads, and blondes.
You get to wear the lipstick not only that matches your features, but you can access shades matching your personality or the occasion. The color chart lets you choose from a range of 70 shades which is made up of the widest variety of reds (dark/ natural), pinks, pinks/ oranges, oranges, neutrals, mauves & berries, browns, and of course, the glosses. Basically, everything you could ask for!
No Beeswax
Unlike other lipsticks on the market, LipSense is free of wax or beeswax. And this could be the reason why everything else failed. Beeswax or wax has horrible effects on the lips because it doesn't allow for the permeation of moisturizers, leaving you with dry lips that call for lipstick reapplication every few hours. If your lips have been struggling with that moisturizing lipstick, now you know where the problem lies. Note that as a result of the damage suffered by your lips for years, your lips might start exfoliating in the first few weeks. But, that will change as soon as your lips health with LipSense.
So, are you a bombshell, a praline rose, caramel apple, first love, pink champagne, sheer berry, or a Fire 'N Ice babe?
How to use the lipsense color chart
Lipsense colors range from nudes to deep reds and come in fifty shades. So when I say it's easy to get lost in the shades, take me at my word. I must say that there is no standard lipsense color chart. Every distributor has switched up to meet the needs of its consumers.
The best is lipsense color chart warm, cold and neutral undertones.
Whatever the chart, the best way to navigate the chart is by matching each color to your natural undertone. The color you choose should be at least two shades darker. You can also opt for a chart that groups the colors by occasion.
Lipsense Video Review