Much-hyped-but-not-so-much-awesome skincare product?
 A hot issue, indeed!
There are lots of anti-aging skin products in the market.
Murad Vs Drunk Elephant are two of the world's most well-known skincare brands.
Their products are well-known for a reason: they're both effective.
Drunk Elephant has a herbal aroma and is effective, whilst Murad is effective and has a pleasant aroma.
So how do you decide which one is faster, and which one works better?
My Journey
When I was in my mid-forties, I began to see fine lines and light wrinkles on my face and began researching for skincare solutions to combat them.
The majority of what I discovered creates a minor change that only lasts for a few hours.
By the end of the day, my skin has lost its lush appearance.
Now that I'm in my early fifties, I'm still on the lookout for a product that would work quickly and provide me with significant, long-lasting results
Now, have a look at what I've discovered! Let's take a look at this Murad vs Drunk Elephant Review.
What are the differences between Murad vs Drunk Elephant? How do they compare?
| | | |
| --- | --- | --- |
| Product | Murad Rapid Collagen Infusion | Drunk Elephant B-Hydra Intensive Hydration Serum |
| Consistency | Thick gel | Thin fluid |
| Ideal Skin types | All skin types | Oily and combination |
| Package sizes | 30 ml and 127ml | 15ml and 50 ml |
| Main ingredients | Winged Kelp (debberlocks) | Pro-vitamin B5 and natural ceramide |
|   | | |
Murad vs Drunk Elephant: What Are The Differences?
Active Ingredients
The primary ingredient used to make Murad's Rapid Collagen Infusion treatment is Winged Kelp.
This is an edible seaweed that is generally associated with communities living along the Northern shores of the Atlantic Ocean.
This seaweed, also known as debberlocks is rich in minerals and antioxidants which help to hydrate skin and retain moisture for longer.
The key ingredients in Drunk Elephant's B-Hydra Intensive Hydration Serum are pro-vitamin B5 and pineapple ceramides.
When pro-vitamin B5 is absorbed into the skin, it is converted into vitamin B5 (pantothenic acid) which naturally soothes, moisturizes, and regenerates the skin.
Gel vs. Serum
The Rapid Collagen Infusion treatment by Murad gives a topical filler effect on the surface of the skin to reduce signs of aging such as wrinkles and lines.
It adds volume to the skin and improves firmness to give a more youthful look.
Drunk Elephant's hydration serum contains very high concentrations of hydrating and anti-bacterial properties.
Serums are deliberately made with smaller molecule sizes to enable them to penetrate the skin faster and fully.
Use this serum on your face, chest, neck, upper back, and any other part of your body that requires additional hydration.
Follow it with moisturizer which helps to lock in all the serum's goodness.
Primary Function
Murad's Collagen Infusion treatment is designed for women whose skin has fine lines and wrinkles.
Although these signs are most common in older women and are associated with aging, they could also be caused by ill health, poor diet, or exposure to very harsh weather conditions.
The treatment helps to add volume to the skin to reduce the depth of wrinkles as well as reduce the appearance of lines.
Drunk elephant's product is primarily a hydrating treatment.
It penetrates deep into the skin and adds moisture to dehydrated skin cells.
It also helps the skin to retain this moisture by strengthening its natural moisture retention barrier.
The result is a quick improvement from dry, rough skin to a visibly bright, youthful supple one.
Collagen Content
As the name suggests, Murad's product is formulated with high concentrations of collagen.
This is the most abundant protein in the body, which makes up 70% of the protein on our skin.
It is responsible for the proper elasticity of the skin and helps keep it smooth and supple making it appear healthier.
The primary function is met as a result of this protein.
Although collagen has been a buzzword in skincare products for many years now, it is not a primary ingredient in Drunk Elephant's serum.
Murad vs Drunk Elephant Review: Pros and Cons
Murad Review
Murad Rapid Collagen Infusion 1 Fl Oz
Collagen support complex boosts skin's resilience and plumps dehydrated skin to reduce wrinkle...
Winged kelp smoothens skin by fostering natural collagen and elastin
Cellular hydro-lock plumps skin and helps smooth fine lines and wrinkles
In a clinical study, Murad rapid collagen infusion reduced the appearance of fine lines and...
The fast-acting formula promotes healthy collagen levels and infuses the skin with lasting...
The Murad Rapid Collagen Infusion is a fast-acting treatment used to add volume to skin with visible signs of aging.
Some users have reported positive results, such as reducing fine lines and wrinkles as soon as 2 hours after using the product.
Winged Kelp, the primary ingredient in this product helps reduce the pooling of blood underneath the skin which reduces symptoms of rosacea.
This is a skin condition that causes inflammation of facial skin, discoloration, swelling, and acne.
This skin treatment also helps to remove harmful toxins from the inner layers of the skin thanks to winged Kemp's antioxidant polyphenols.
These help to minimize skin damage caused by the sun, stress, and smog.
Pros
Immediate results
Suitable for sensitive skin
A small amount of product is required for the entire face
Cons
Drunk Elephant Review
Drunk Elephant B-Hydra Intensive Hydration Serum - Anti Wrinkle Serum for All Skin Types. 50 Milliliters / 1.69 Ounce.
B-HYDRA. Like a cool glass of water for your thirsty skin, this ultra-hydrating vitamin B5 gel...
LIGHTWEIGHT, HARD-HITTING SERUM. Uniquely formulated with provitamin B and pineapple ceramide,...
NO QUESTION IN QUALITY. A routine is only as good as its worst product, and a product is only...
SENSITIVE VS. SENSITIZED. When skin is exposed to irritants and sensitizers, damage can be...
MADE IN THE USA. Drunk Elephant doesn't take shortcuts or compromise ingredients to save...
The B- Hydra Intensive Hydration Serum from Drunk Elephant is a powerful skin hydrant.
It has been referred to as a refreshing 'drink' of cool water for your thirsty skin.
It is a biocompatible formulation which means it penetrates the skin very easily and does not disrupt the skin's natural balance.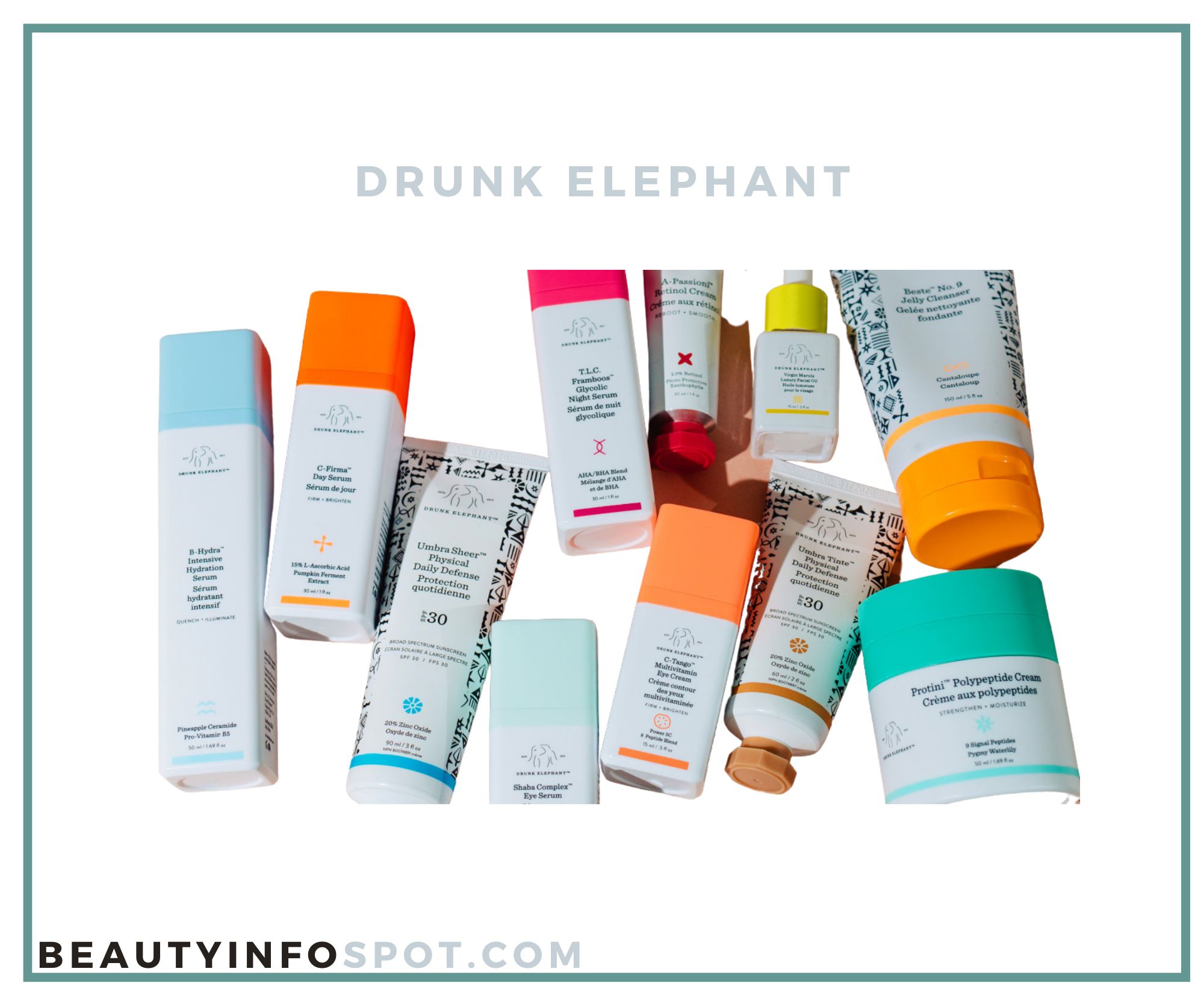 This serum has a pH level of 5.7 which is within a small acceptable range for healthy skin.
It has no essential oils, silicones, or artificial fragrances. Contrary to common belief, not all essential oils are good for the skin.
It is ideal for oily and combination skin.
Pros
Scentless
Lightweight
Refreshing feel
Cons
Final Thoughts on Murad vs Drunk Elephant
Collagen is the most abundant protein in the body. It is made up of important amino acids which help to keep the skin, soft and firm.
It then follows that a reduction in collagen in your skin will cause noticeable effects.
This Murad vs. Drunk Elephant review puts Murad's product ahead of the pack because of its ability to restore wrinkly skin.
Its ability to give quick results makes it a definite choice for users looking for fast-acting products.
FAQs about Murad vs Drunk Elephant
What destroys collagen in the skin?
Exposure to free radicals such as pollution and the sun has been shown to cause the destruction of skin collagen.
Reduced collagen causes wrinkling.
To reduce the effects of collagen destruction, eat a diet rich in vitamin C which is a key component in collagen production.
What is the ideal pH for skin?
The surface of our skin is slightly acidic with a pH value of about 5.5.
The skin surface has a thin protective layer called the acid mantle.
It is made up of sebum which mixes with lactic acid to form what we know as sweat, which is slightly acidic.
Is there a difference between serum and moisturizer?
Serums do not contain moisturizing ingredients like petrolatum or oils.
Moisturizing agents prevent loss of moisture from the skin.
Serums also contain less thickening agents.
When should collagen treatment be used?
It is best used in the morning and night.
Apply it after you cleanse and tone, before moisturizing.