"Which are the best skincare products for my skin, Neocutis vs. SkinMedica?"
Spending on high-quality skincare products can be a costly investment, but depending on the brand, it can be worth all the trouble in the end.
I know because I spend decently on a skincare routine that I am certain works for me, and I try to help others achieve the same as well!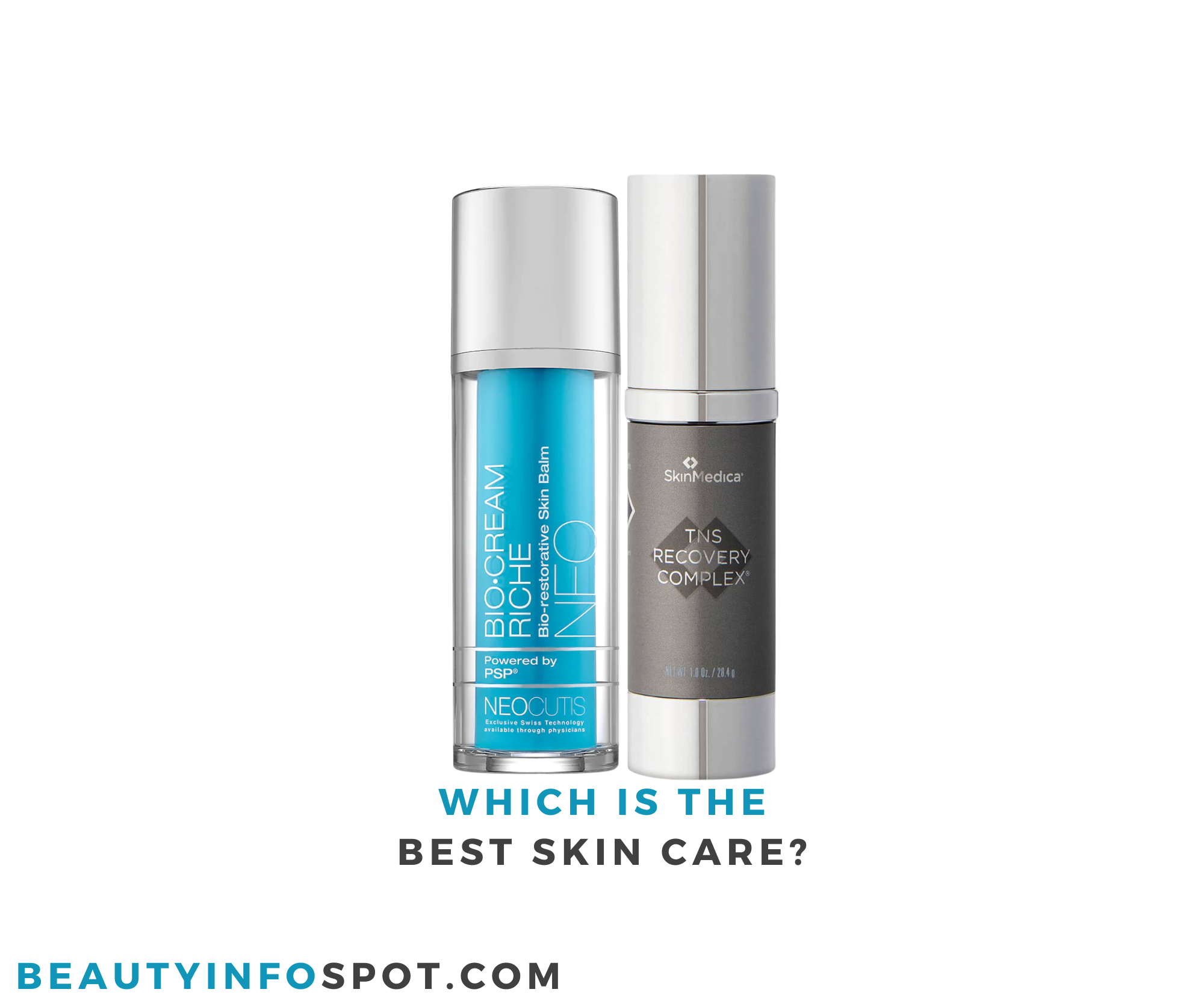 If you've made the step to invest in a medical-grade brand that will watch over your skin for years.
Then you're on the right path to making some positive changes in your appearance.
Whenever I'm on the lookout for new products, I always dig into the brand and company for as much information I can gather as possible.
Checking out what other customers have to say about their experience can chip into your research.
This is why decided to compare Neocutis and SkinMedica for you because I've tried out these two amazing brands.
Differences Between Neocutis vs. SkinMedica
| | | |
| --- | --- | --- |
| Brand | Neocutis | SkinMedica |
| Created | 2003 | 1999 |
| Primary Formulations | PSP (Processed Skin cell Proteins), MPC (Micro Protein Complex) | TNS (Tissue Nutrient Solution), Lytera |
| Star Product | | |
|   | | |
Neocutis vs. SkinMedica – A Quick Comparison
Formulations
Big brands often have their own patented technologies that give their products that extra punch that most regular products lack.
Neocutis has about six technologies like PSP, MPC, MELAPLEX, and more.
For example, PSP contains growth factors, interleukins, and cytokines that provide your skin with needed rejuvenation, while MPC targets aging symptoms like wrinkles, lines, and loss of elasticity.
SkinMedica may not have multiple technologies as Neocutis, but they were the first to create human growth factors similar to what the Neocutis PSP holds.
TNS is a lot similar to PSP, but SkinMedica boasts of a higher concentration of the growth factors, cytokines, and matrix proteins – around 94%.
Either way, both blends have proved quite effective for many users.
Companies
Neocutis is a Swiss-technology conception by a group of scientists.
What started as research into wound healing and elimination of scars was the birthing factor to the founding of the organization.
More studies were looking deeper into the skin and the best possible ways to deal with multiple skin issues through the causes.
SkinMedica, on the other hand, is a dermatologist's creation; which makes both brands attractive to users interested in professionalism and quality.
You can find more information on the studies, research, trials, and results on the official website.
The skin conditions SkinMedica can alter with their line of products are pretty impressive.
Target Issues
Neocutis has different formulations to tackle skin issues like aging, loss of tightness, dehydration, and rough textures.
For example, aside from the popular PSP, MELAPLEX is mainly for users looking to improve their skin tone and brighten their complexion without using Hydroquinone.
ROSAPLEX is also a Neocutis proprietary blend to help calm and reduce skin redness.
SkinMedica also aims to battle several skin problems as Neocutis, though they use specific products aside from patented formulations.
You can find the special TNS blend in a couple of their products, but you can also find products like high-quality retinol for anti-aging, Vitamin C + E for improved texture and tone, and Hyaluronic acid for intense hydration.
Neocutis Bio-restorative Skin Cream Review
NEOCUTIS Bio-Cream Bio-restorative Skin Cream with PSP, 1.69 Fl Oz
Preserve with Growth Factors: Helps reduce the appearance of fine lines and wrinkles. Improves...
Moisturize: Nourishing oils moisturize skin to promote a more refined tone and texture
Replenish: Helps restore skin's healthy appearance after cosmetic dermatological procedures
Neocutis Bio-restorative Skin Cream was the first of the Neocutis creams to contain PSP technology.
This Bio Cream can help soothe, rejuvenate, and minimize lines and wrinkles.
The cream is ideal for dry and normal skin types, recovery from cosmetic and dermatologic treatments, and can also improve skin tone, texture, and firmness.
Using this cream depends on your skin type, condition, and professional advice.
You only need to apply a thin layer of the Bio Skin Cream to the affected skin at night or 3-4 times every day or as directed.
Seek advice on the right products to use with (or not) if you're using the cream as an aftercare product.
Pros
For regular skincare and recovery
Contains special PSP technology
Cons
Expensive and often requires professional advice
SkinMedica TNS Recovery Complex Review
SkinMedica TNS Recovery Complex
Reduces the appearance of skin discoloration
Suitable for all skin types. How to Apply: Dispense on the back of your hand and blend together...
Helps in improving the appearance of fine lines and wrinkles
It has the highest concentration of a patented growth factor blend
Formulated from naturally occurring growth factors, antioxidants, soluble collagen, cytokines,...
The TNS Recovery Complex was the first TNS-containing formulation SkinMedica came up with, and the results were significant.
According to the company, the gel can enhance skin texture, tone, and elasticity by improving the appearance of wrinkles and fine lines.
After cleansing and toning, apply a single pump of the TNS Recovery Complex to your face – neck is optional.
Apply other creams and sunscreen after.
If you want more out of the TNS blend, you can buy the TNS Essential Serum which contains both the TNS Recovery Complex and the APS Corrective Complex.
Pros
Contains high concentration growth factors
Suitable for all skin types
Cons
Conclusion on Neocutis vs. SkinMedica?"
Comparing Neocutis vs. SkinMedica can help you decide which of the brands has more of what you need in your skincare products.
That said, depending on my experience with both brands, it's hard picking a winner, but I'd recommend SkinMedica TNS Recovery Complex if you can manage the extra cost.
FAQs Section About Neocutis vs. SkinMedica?
What is Neocutis PSP?
Neocutis PSP is a Swiss technology that stands for Processed Skin cell Proteins.
This is a key ingredient in many Neocutis products that can help minimize aging symptoms and revitalize your skin.
What is Neocutis PSP?
Neocutis PSP is a Swiss technology that stands for Processed Skin cell Proteins.
This is a key ingredient in many Neocutis products that can help minimize aging symptoms and revitalize your skin.
Where is Neocutis manufactured?
Neocutis was obtained by Merz North America and is currently a division of the healthcare company. Merz North America is based in Canada and the U.S.
What is SkinMedica TNS?
TNS (Tissue Nutrient Solution) is a unique SkinMedica formulation you can find in some SkinMedica products.
It contains stabilized growth factors, cytokines, matrix proteins, and antioxidants.
Do SkinMedica products expire?
All SkinMedica products do not have a labeled expiration date on the boxes.
But the company advises on buying a new product past the two-year mark.
Is Neocutis a good product?
The product is good in and of itself, but the price increase is so unreasonable that I will not purchase it again unless there is a significant reduction. Neocutis' bottles are not environmentally friendly. There is far too much-unneeded plastic trash!
Neocutis or SkinMedica: which is better?
The study also discovered that 64% of patients had improved facial tone and texture.
73% had increased skin hydration, 100% of patients loved the way the product felt on their skin.
91% said they would continue to use Neocutis products with PSP after the 6-month treatment period.