Body and face acne is quite frustrating to fight against it.
This Rodan and Fields Unblemish vs. Proactiv comparison review seeks to enlighten you on the various high-quality skincare regimens available in the market.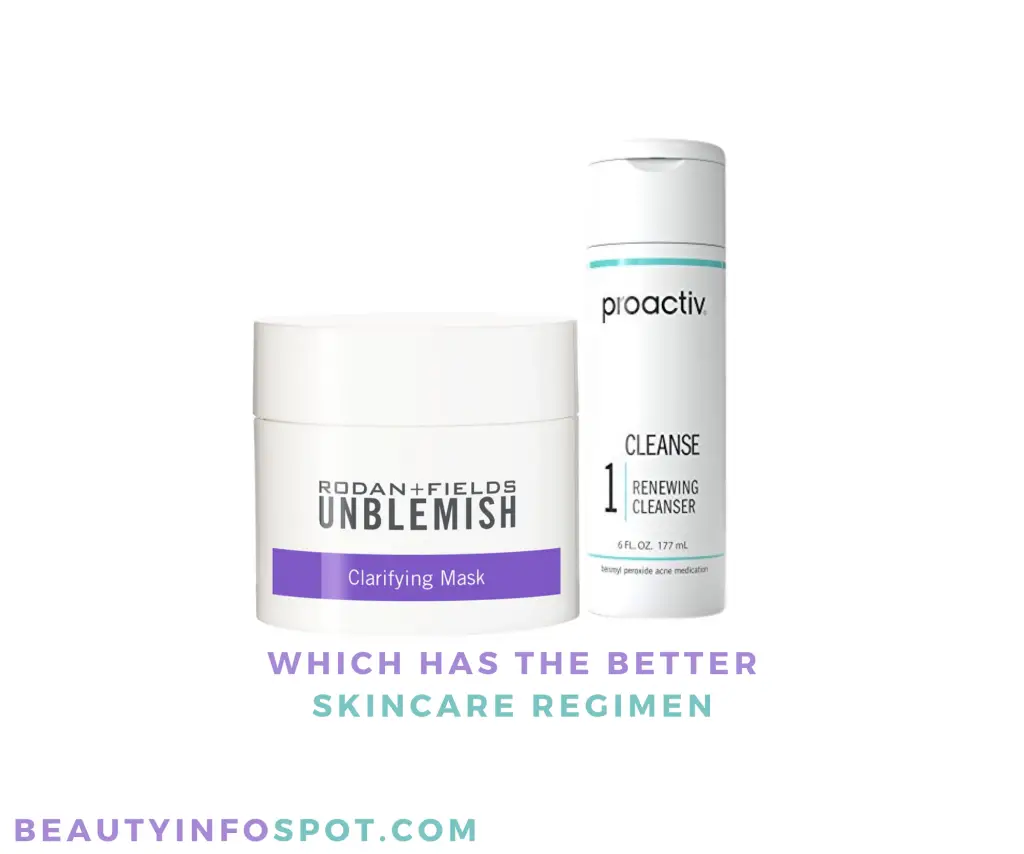 I have always had beautiful skin throughout my teenage years as well as in my twenties.
Even when I went on birth control, my skin got better than it was before.
As soon as I gave birth to my first son, my face began to be problematic.
From black spots to wrinkles to pimples, I had them all.
As such, I implemented a skincare beauty regime to control my troublesome skin.
I have found that Rodan and Fields Unblemish and Proactiv skincare regimen kits work miracles on my skin type.
The following comparison review gives you an in-depth look at what these two skincare lines have to offer.
What are the differences between Rodan and Fields Unblemish vs. Proactiv?
| | | |
| --- | --- | --- |
| Item | Rodan and Fields Unblemish regimen kit | Proactiv Skincare |
| Ingredients | Anti-oxidants, peptide complexes, conditioning ingredients, and caffeine | Clinically tested acne-fighting ingredients such as benzoyl peroxide and glycolic acid |
| Application | A four-step process for twice a day use | A three-step application procedure twice a day |
| Results timeframe | 6-8 weeks | 4-8 weeks |
|   | | |
Rodan and Fields Unblemish vs. Proactiv skincare – How do they compare to one another?
Ingredients
It comprises a sulfur-based face wash to unclog pores.
A clarifying toner to exfoliate the skin, and benzoyl peroxide acne treatment to prevent the production of new acne blemishes.
The sulfur wash is not recommended for people with sensitive skin types as it may cause skin irritation and inflammation.
Proactiv skincare features proved acne-treating ingredients with benzoyl peroxide and glycolic acid as some of the active ingredients.
The skincare line contains a light gel that contains complex benzoyl peroxide technology to clear blemishes and prevents more from forming.
With its acid-based ingredients, you can remove blackheads, pimples, and post-acne spots.
Products
Rodan and Fields Unblemish contains four full-sized products which include a sulfur-based face wash, toner, acne intensive care treatment, and an oil control lotion.
This four-step skincare regimen kit goes well with other complementary enhancements such as micro-dermabrasion pastes and vitamin D supplements from R+F.
Proactiv skincare is a three-step regimen that consists of a cleanser, toner, and repairing treatment.
This revolutionary regimen contains safe Smart Target benzoyl peroxide technology or BPO.
It absorbs quickly into the skin, minimizing skin irritation and dryness.
Results
The Unblemish line is a Multi-Med Therapy treatment explicitly formulated for adult skin to tackle visible signs of aging and effectively clear and prevent skin blemishes.
Its breakthrough formula contains anti-aging and acne-combating ingredients which begin to show results as soon as one week after use.
A complete kit lasts for 60 days, or even longer depending on the amount and frequency of use.
Proactiv skincare is a three-step acid-based acne treatment regimen designed to handle mild to moderate acne conditions.
This powerful formula is known to show visible changes in facial acne within the first four to eight weeks.
Suitable for all skin types.
The kit lasts for up to 30 days with a twice-a-day application.
Rodan and Fields Unblemish vs. Proactiv – A comparison review
Rodan and Fields Unblemish Overview and Key features
Are you looking for a clinically-tested acne regimen to treat your acne and stop blackheads?
Rodan and Fields Unblemish regimen is perfect for any adult skin looking to treat their acne effectively to enjoy smooth and radiant skin.
Apart from its acne-treating properties, this skincare regimen also contains anti-aging ingredients which reduce visible signs of aging and wrinkles.
Fight against your acne with this revolutionary kit and enjoy the results within the first week of using it.
What we like
A clinically tested formula by two famous dermatologists
Clears clogged pores and treats various acne conditions
A complete product contains four full-sized products
What we do not like
Somewhat pricey as compared to other acne treatments available on the market
Proactiv Skin Care Overview and Key features
Proactiv is a world-renowned 3-step acne treatment regimen, famous for clearing up and controlling acne conditions.
With its unique benzoyl peroxide technology, the treatment absorbs directly into your skin, thus actively fights against acne-causing bacteria and clearing any spots and blemishes.
This product is gentle on the skin and has a lightweight, non-greasy, and fluid-like feel, ideal for those with oily skin.
It is advisable to use Proactiv only on acne-affected areas.
What we like
Consists of proven acne-fighting formulas
Safe and gentle on various skin types
A complete kit comes with three products; cleanser, toner, and treatment
What we do not like
Competently treats mild to moderate acne conditions
Frequently Asked Questions
Can acne be cured permanently?
With proper consultation with your dermatologist, you can permanently rid yourself of any acne condition.
Your dermatologist may recommend a dose of Isotretinoin, which is a potent prescription drug.
How do I treat acne scars?
By using an effective acne treatment regime, such as Rodan and Fields Unblemish or Proactiv, acne scars will eventually disappear.
Leaving you to enjoy smooth and youthful-looking skin.
You have to adhere to the application process for optimal long-term results strictly.
How do I know which acne treatment regimen is ideal for my skin type?
Conducting thorough research before purchasing new products is always a life-saver.
Read reviews and conduct patch tests, if possible, to prevent worsening your acne condition.
Similarly, read the product's list of ingredients and consult your dermatologist on which components may be potentially harmful to your skin.
Can I use other cosmetic products with my acne treatment?
Of course, Yes!
Some acne treatments, however, may not react well with other brands due to their unique medicinal ingredients.
It is advisable to consult your doctor before combining your acne treatment regimen with other cosmetic products.
How long does Unblemish take to work?
between four and six weeks
It normally takes four to six weeks to see effects, but it might take up to eight weeks to see notable improvement.
The clinical data is based on the usage of UNBLEMISH Acne Treatment Sulfur Wash, Clarifying Toner, and Dual Intensive Acne Treatment twice daily.
Is Unblemish the same as Proactiv?
Unblemish was developed as an alternative to Proactiv that operates in a completely different mode of action for people who do not wish to use a salicylic acid-based therapy.
It's worth mentioning that Unblemish costs more than twice as much as Proactiv for treatment regimens of the same length.
Is proactive really effective?
Having said that, Proactiv may be an useful treatment option for mild to moderate acne breakouts and scars.
However, it is not a miracle treatment, and it will not work for everyone.
Proactiv does not treat cystic or nodular acne, according to the product description.
It's also not the ideal solution for people who have severe acne.