Majority of the people nowadays are in search of the best anti-aging skin care products that will keep their skin youthful. The SkinMedica TNS Serum vs Recovery Complex will help you understand why they are the best.
I'm a newbie in using skincare products which has made my best friend very happy. Anyway, I'm loving my improved skin. My routine is cleansing, toning, hydrating, and then applying my anti-aging cream followed by sunscreen in the morning. At night I cleanse, moisturize, and apply anti-wrinkle gel and cream. With all the hours I have been spending at the gym, I have lost around 10kg. The other day I noticed some wrinkles and fine lines on my forehead and I don't know what to do. Maybe the SkinMedica TNS Serum vs Recovery Complex comparison will be of help.
Here is a table comparison between SkinMedica TNS Serum and Recovery Complex
| | | |
| --- | --- | --- |
| Product | | |
| Ease of use | The two products need to be mixed well before applying. | Simply squeeze and apply twice daily. |
| Formulas in the product | The TNS complex and APS corrective complex | Tissue Nutrient System |
| Most active ingredients | TNS complex contains fibroblasts and the APS corrective complex has the most active ingredients. | Growth factors, cytokines, proteins, amino acids, and antioxidants |
| Suitable Age | Benefits over 50 because it increases production of collagen and repair sun damaged skin. | Benefits below 40 because it contains no harsh chemicals. |
| | | |
SkinMedica TNS serum vs Recovery complex – How do they differ?
Ease of use
TNS serum is a two in one product that contains the TNS complex and the APS Corrective complex. When it comes to applying these two products it's not as easy as squeezing it from the tube and applying it, there is more to it. Every morning and evening after you cleanse and tone your skin, pump a small amount of both products at the back of your hand and mix it well. Then apply it on your face, neck, and chest if desired. As for Recovery complex, it's as simple as squeezing a tab onto your hand and applying it on your skin twice a day.
Formulas in the product
TNS serum contains two active formulas that blend well to help smoothen the wrinkles on your skin at the same time regenerating your skin cells to give you a more youthful look. The TNS complex is formulated with proteins and amino acids that reduce the signs of aging and inflammation. The APS Corrective complex contains antioxidants, anti-aging properties, and peptide for firming your skin. The TNS Complex only has one formula, the Tissue Nutrient System that uses growth factors to firm, smoothen, and tone your skin.
Ingredients
Both TNS Serum and Recovery complex contain fibroblasts that help to in healing your skin, production of collagen, and other functions in the dermis of your skin that help to restore your youthful skin. TNS serum has a second chamber that contains the APS corrective complex that is formulated with peptides, antioxidants, and anti-aging ingredients. This chamber contains the most important ingredients that have proven to be most effective. They're the most active ingredients you will find in more than other high-end cosmetic products.
SkinMedica TNS serum vs Recovery Complex comparison reviews
SkinMedica TNS serum

TNS Essential Serum is a unique and multifaceted product that is designed to treat your skin and help to maintain a healthy and youthful complexion. It has two chambers, one holds the TNS complex which is a formulation of proteins, amino acids, and antioxidants, and the other the APS complex that contains antioxidants and peptides. When used over time the TNS serum will help to reduce any visible fine line and wrinkles, hyperpigmentation, and reduce your skin's elasticity.
TNS serum is an effective anti-aging product that promotes the production of collagen which helps to firm your skin. It's a better product if you're over 50 years or if you're skin has been severely damaged by the sun.
Pros
Hyaluronic acid hydrates your skin and traps moisture on your skin's surface.
Alpha-arbutin brightens any skin discolouration and dark spots.
Peptides firm your skin and support its health.
Improves the appearance of wrinkles, fine lines, skin texture, and tone.
Antioxidants reduce damage caused by free radicals.
Cons
Flaking skin.
Itchy and red skin.
Sensitivity to the sun.
Recovery Complex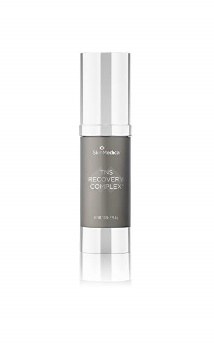 TNS Recovery Complex is a serum that contains concentrated amounts of growth factors, cytokines, proteins, amino acids, and antioxidants that help support your skin's natural functions. It's not only an effective anti-aging product it also helps with reducing acne scars, redness, and skin damage. It's formulated to cater to men and women of all ages looking for a clear, smooth, and even skin tone. It contains no harsh chemicals which make it safe for even young people to use. It smoothens out fine lines and wrinkles, reduces your pores, and promotes the production of collagen allowing to lift, firm, and tighten your skin so as to heal and repair faster.
Pros
Reduces inflammation.
Promotes collagen production which helps to firm and tighten your skin.
Antioxidants prevent free radical damage.
Reduce signs of premature aging.
Enhances your skin tone and texture.
Reduces the appearance of wrinkles and fine lines.
Cons
React with sensitive skin.
Rashes and irritation on your skin.
Which skin care product do you think is best for your skin?
Both TNS serum and Recovery complex are products that can help in smoothening your fine lines and wrinkles and rejuvenating your skin to have a more youthful appearance. TNS serum has an advantage to Recovery complex because it contains the APS corrective complex which is formulated with the most active ingredients than most cosmetic products in the market.
FAQ
How long do you use Recovery complex?
You can use Recovery complex as long as you want to help improve the overall appearance of your skin. Usually, you will have optimal results in about 90 days.
How do I use Recovery complex?
To apply Recovery complex you need to first cleanse and tone your skin every morning and evening then apply a small tab of the product on your skin.
What is the TNS growth factor?
Growth factors are messenger proteins found in your body that help to maintain healthy skin. Recovery complex is the first topical skin care product that is almost entirely formulated with stabilized human growth factors.
Why does TNS Recovery complex have a bit of an unusual smell?
Recovery complex has an unusual odour because of the high concentration of protein. The whole product contains 93.6% of Tissue Nutrient System.
How long does TNS Essential serum last?
You can use Essential serum as long as you want to improve your skin appearance. Initial results will occur after 30 days but optimal results will appear after 90 days.