There are many skincare lines out there that claim to be the best!
But you can only know for sure by comparing them to the best.
That is why the SkinMedica vs La Mer comparison is a great way of finding out what benefits each has.
My Frustration
The fine lines under my eyes are causing creases on my concealer and I've tried everything but nothing seems to be working.
I don't understand why this is happening because I keep the skin hydrated with eye creams day and night and for extra hydration, I apply marula oil at night.
But I still feel it's not working.
I also drink lots of water every day to stay hydrated.
Maybe the SkinMedica TNS vs La Mer can provide some insight.
Here is a table comparison between SkinMedica TNS and La Mer
| | | |
| --- | --- | --- |
| Product | | |
| Main Ingredient | Growth factors and cytokines that help with skin regeneration. | Fermented sea kelp which is a natural water plant that moisturizes the skin. |
| Antioxidants | Vitamin C, green tea extract, etc. that improve the health, appearance of the skin and protect it. | Copper Gluconate boosts production of superoxide dismutase to protect the skin from free radicals. |
| Ease of application | Mix the two products in equal proportion before applying. | Warm a bit of the cream with the fingers before applying. |
| Smell | Has a strong medicinal scent that lingers on the skin. | Has a mild and non-irritating pleasant scent. |
| | | |
SkinMedica TNS vs La Mer – How do they differ?
Main Ingredient
SkinMedica TNS Essential Serum is mainly formulated with human growth factors and cytokines which helps your skin to regenerate itself to have a more youthful appearance reducing the fine lines and wrinkles.
This gives your skin more elasticity.
La Mer's major ingredient is fermented sea kelp, a natural water plant that is very effective in moisturizing your skin and providing your skin with the nourishment it needs to keep it looking healthy.
Antioxidants
SkinMedica TNS Essential serum uses a variety of antioxidants like vitamin C, blackberry leaf extract, green tea extract, and more to help improve the health and appearance of your skin.
While protecting it from damage caused by free radicals from the environment and because of age.
On the other hand, La Mer contains copper gluconate which promotes the production of superoxide dismutase in your skin.
This powerful antioxidant also protects your skin from the damage of free radicals.
Ease of application
Applying TNS serum requires you to first squeeze out a small amount from the two chambers.
Put it at the back of your hand, and mix the two products well before you can apply it on your face, neck, and even your chest.
However, for La Mer, you need to scoop a bit of the cream from the container and warm it with your fingertips for a few seconds until the cream becomes transparent.
Then apply it to your face and neck but don't massage the cream.
Product's smell
TNS Essential serum has a very strong medicinal smell that can be quite offensive.
It lingers on your face for some time even after washing your face.
But as for La Mer, it has a pleasant smell that isn't irritating or overwhelming.
SkinMedica TNS vs La Mer comparison reviews
SkinMedica TNS

SkinMedica TNS Essential is a serum that helps to rejuvenate your skin by combining it with two formulas.
The one growth factor formula in TNS Recovery Complex that helps to reduce skin inflammation and signs of aging and two, the APS Corrective Complex that comprises of antioxidants and peptides that help to firm your skin reducing wrinkles and fine lines to give you a more youthful appearance.
The anti-aging properties activate your skin to heal on its own and restore it to smooth, radiant, and younger-looking skin.
The peptides stimulate your skin to produce collagen which gives your skin elasticity and keeps it plump.
Pros
Hyaluronic filling spheres that contain hyaluronic acid keeps your skin hydrated by trapping water underneath your skin's surface.
Alpha-arbutin helps to lighten and brighten your skin.
Antioxidants help to improve the health and appearance of your skin and protect it from free radical damage.
Help reduce inflammation and signs of aging
Cons
Has a strong smell.
Some of the ingredients can react with sensitive skin.
La Mer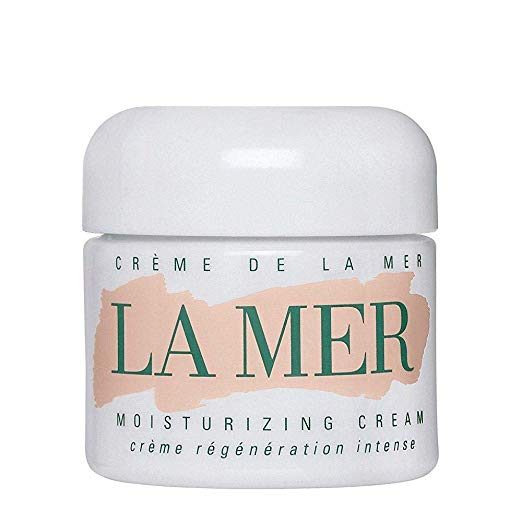 La Mer faces cream or famously known as crème de la Mer is a face moisturizer whose main ingredient is fermented sea kelp which leaves your skin moisturized, with great anti-aging and skin-transforming properties.
It helps to smoothen your fine lines and wrinkles while reducing your pores and giving you a better complexion.
The cream is rich in natural nutrients like seaweed and citrus that work together to provide your skin with all the necessary nutrients it needs.
The fermented sea kelp is a natural water plant that gives your skin a healthy glow leaving your skin soft and smooth.
To active, its benefits simply scoop a small amount of the cream with your fingers and warm it between your fingertips for a few seconds until the cream looks transparent.
Gently apply it to your face and neck.
The cream isn't too greasy or oily when you apply it and the best part is it works very quickly and you can start to notice some results within a few days.
Pros
Nourish your skin and help it retain its moisture.
Makes your skin firmer and softer.
Your pores and wrinkles become less visible.
Contains natural ingredients that are 100% authentic.
Cons
It's expensive.
You have to warm the cream in your hands before applying to activate its properties to work.
Its fragrance or other ingredients may react with sensitive skin.
Do you know which skin care product is ideal for you?
Both SkinMedica TNS and La Mer are great skincare products that help to reduce your fine lines and wrinkles at the same time firming your skin to have a more youthful look.
While TNS serum has a smell that can put you off, it's a great product that can be used even after post-skin procedures.
La Mer has a bit of an advantage because it contains natural ingredients that transform your skin, easy to use, and smells great.
FAQ
Does La Mer have mineral oil?
La Mer contains Petrolatum, a simple mineral oil that works the same way but it's more of a jelly than an oil.
However, it contains the same skin benefits as mineral oil.
Does La Mer expire?
Most La Mer products have printed batch codes at the bottom of each container and package that indicate the Period After Opening, POP.
Once you open a container the expiry date is between 6-24 months.
What is in La Mer miracle broth?
You will find sea kelp the main ingredient and vitamins B12, C, and E, magnesium, iron, calcium, potassium, iron, and lecithin.
It also contains certain oils like eucalyptus, citrus, alfalfa, wheat germ, and sunflower.
The miracle happens when all the ingredients are bio-fermented.
What is the TNS Recovery Complex?
It's an anti-aging serum made from Tissue Nutrient System that reduced inflammation, targets your blood vessels, and encourages cell growth for a more youthful look.
How long does TNS Recovery Complex last?
If you apply it as directed twice a day, it should last you for about 30 days.
It will help improve the overall appearance of your skin.